What is Cloudflare?
Are you looking for Cloudflare Alternative?
Cloudflare is the operator of a widely available global network with inbuilt security measures. It provides a range of Internet-based services related to Web Security and Content delivery.
Cloudflare acts as an intermediary and stores the responses to the nearest server. It serves the content from the cache for the later requests and hence decreases the loading time.
A large number of webmasters are using Cloudflare to improve the performance of their website.
What service does Cloudflare offer?
Cloudflare offers many tools free of cost, and the monthly charges of the Cloudflare are quite low. There are an enterprise and premium version too for the large traffic sites.
Features of Cloudflare:
Cloudflare Stream
Load Balancing
Caching
DDoS Protection
DNS
Cloudflare Hurts SEO
There is no doubt that Cloudflare is an excellent service provider. However, case studies are suggesting that Cloudflare hurt the ranking of the sites.
Many people have noticed that their sites lose traffic after enabling Cloudflare. In such cases, you can use alternatives to Cloudflare.
Cloudflare Alternatives
Akamai
Akamai is one of the most trusted and most known cloud-based networks in the world. The globally distributed network of Akamai served nearly 15-30 percent of all the web traffic.
19 of the Top 20 U.S. eCommerce sites are using Akamai, and 10 of the Top 10 U.S. banks have implemented their security.
The protection against the various web threats is strong suites of Akamai. Akamai also handles the sudden traffic hikes effectively.
When it comes to security, the Akamai is well prepared for all kind of threats. Kona Site Defender is one such service that protects the website from the DDoS attacks and Multiple Bots Attacks. It is a useful option for companies looking for a tool that could monitor their site security and mitigate any threat.
Price: Free trial, No free Plan
Sucuri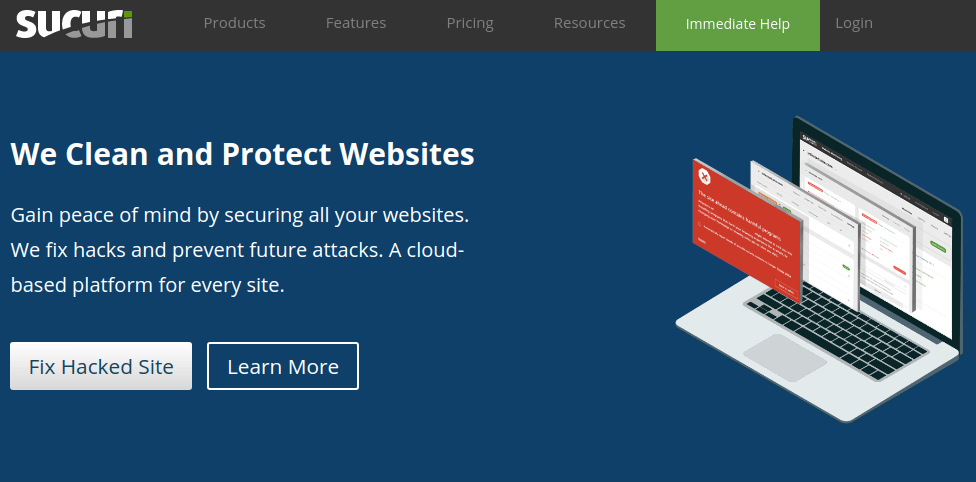 Sucuri does not offer a CDN, but when it comes to security, it is a terrific alternative to Sucuri. If you are using CDN somewhere else, and looking for security service for your web site and application, then Sucuri would work great for you.
The best part of Sucuri is it does not cater to any single platform. Be it WordPress, Magento, Prestashop, Drupal, Jumla, or even Tumblr.
Sucuri has DDoS protection, Malware protection, website firewall, SQL injection monitoring, XSS Javascript hacks blockers, under its security umbrella. Other than these, Sucuri offers malware removal and website monitoring services.
Read the comparison guide of Sucuri and Cloudflare.
Price: No free plan, Price starts at $199.99 per Year
Amazon CloudFront
AWS is a huge platform consisting of multiple tools and services for the web. One of them is Amazon CloudFront, which is an excellent alternative to Cloudflare.
Amazon is most potent among all and most expensive, too, if you want the complete Amazon Cloudfront solution. They can deliver the content of any type or form. It speeds up the content delivery of static content as well as dynamic content.
The tool is highly configurable but requires a technical person or you can get a Managed AWS Service.
Cloudfront has a feature to automatically allocate the more hardware for the sudden traffic hikes so the site could keep running without any downtime. The feature is helpful during the DDoS attacks.
Price: Free for first-year, then starting at $0.085 per GB Bandwidth
You can reduce AWS cost up to 25% with the ServerGuy Managed AWS.
Stackpath
Stakcpath has acquired the Highwinds and MaxCDN that has improved the reach of the Stackpatch network. It now has 45 edge locations.
The edge security of the Stackpath comes with WAF and DDoS protection. Instant purging and real-time analytics allow making quick changes to the site.
With the extensive API documentation and multiple security tools, the Stackpath is an excellent alternative to the Cloudflare. Stackpath is a growing company right now, and the pricing is reasonable. If you are looking for affordable service with quality tools and support, Stackpath is an excellent choice.
Price: One-month free trial, starting from $20/Month
Fastly
Fastly is a newcomer in the market in comparison to Cloudflare and other similar CDN and web security providers. However, Fastly has succeeded in making a name among the leaders.
It offers a variety of services for security and web performance like instant configuration updates, instant purging, the ability to cache dynamic content, real-time log streaming and analytics as well as protection from traffic spikes.
Other features include streaming content delivery, WAF, and various optimization tools. Real-time CDN allows the changes to happen quickly. Moreover, the price of the Fastly is flexible, and it charges only for the amount used.
Price: $50 trial, then $0.12 per 1GB Bandwidth
Google Cloud CDN
If you are using CloudFlare for a large website, the Google Cloud CDN is also an excellent CloudFlare alternative.
Google does not need any introduction, and with the global reach, you can trust its CDN to deliver your content.
With customer line up like Twitter, PayPal, Etsy, and Sky — Google Cloud CDN is powerful enough to manage large sites, while affordable enough for SMB.
Like any other Google product, Cloud CDN is well integrated with Google's other services. However, adding the external domain is bit technical. Google documentation is best of the world, so you would not have much difficulty.
The CDN network have same servers that Google use on its own websites. There 100+ PoPs across the world, that in turn peered with the top ISPs. The widely reached network ensures the performance and deliverability.
You can have control over cache modes, keys, default expiry times, cookie handling, purging content and more. It support HTTP/2, QUIC, and TLS 1.3.
A beginner will find the Google Cloud CDN overwhelming, with all the features, controls and services. Most CDN do it for you, but with Google you get the documentation to do it yourself in the best possible way.
For example: With CloudFlare, you can simply click on redirect to HTTPS setting and enable it. With Google, you have to read the documentation that explains all the scenarios.
Pricing: Being focused towards enterprise, Google's pricing is also complicated. There are many variables on which the pricing depends.
Frequently Asked Questions
Who are Cloudflare competitors?
Amazon, Sucuri, Fastly, Imperva, and Akamai are giving fierce competition to Cloudflare.
What is better than Cloudflare?
For the basic needs, Cloudflare is still the best. Though with more significant sites comes the need to have more security and faster CDN. If we talk about security, Sucuri could be a great choice.
Does Amazon own Cloudflare?
Amazon does not own Cloudflare. It has its CDN called Amazon Cloudfront. However, the CEO of Cloudflare is Mathew Prince.
Is Cloudflare free?
Cloudflare has both free and paid versions available. There are enterprise and premium editions too.
Cloudflare Alternative
Cloudflare is a powerful and trusted brand across the world for its long-range of web services though nothing is irreplaceable.
There are many alternatives, and with large companies like Microsoft, Amazon, and Alibaba starting their CDN services, the competition is only becoming more intense.
With more competition comes the decision to take: Which one is better for you?
The only answer is to analyse your needs and find the one that suits you the most. If you don't like Cloudflare or it is not suitable for your needs, you can jump to any of the mentioned Cloudflare alternatives.
Listed six Web Platforms are the best and have their pros and cons.