Get Powerful GPU Servers to accelerate the high-performance computing tasks and run multiple parallel processes.
Accelerate your workload with the power of dedicated servers & NVIDIA Tesla GPUs.
High Performance
Cost Effective
99.99% Uptime
Secure
GPU Servers Hosting plans
GPU

Processor

RAM

Storage

Price

2 x Tesla V100 (2 x 32GB)

4 x Tesla V100 (4 x 32GB)
Need Custom Solution
Plan your project needs upfront, and send us a note using the form and someone from the ServerGuy team will be in touch soon.
Why you need a GPU Server?
GPU Servers, a.k.a Graphical Processing Unit is commonly known as graphic cards. They are designed to run powerful algorithms parallelly, so the CPU can be free of such tasks.
CPU is a central processing unit, and they serve multiple purposes, but mostly do general computing tasks. With few cores focusing on sequential processing, CPU is not optimized for running parallel tasks. GPU is composed of thousands of small cores that can run thousands of functions at the same time.
GPUs are used for tasks such as Artificial Intelligence (AI), Machine Learning, Deep Learning, Big Data manipulation, 3D rendering, and even streaming, demanding the power that can maintain a large number of requests & instructions at one time.
There is lots of data, and every organization is looking to make sense and use it for optimal profit. Data processing has become an essential aspect of every business sector.
A powerful CPU is the primary requirement for playing with the data. There, GPU servers enhance the CPU's power and performance and enable them to do high-end calculations.
With GPU servers, the CPU can execute the parallel tasks with much faster speed. The use of GPU Servers among Machine learners and data scientists is increasing day by day, as it powers their infrastructure and escalate the training of their model.
GPU and Dedicated Server is an ideal combination for post-processing videos, images, or 3D models. Rendering each pixel on the screen could take time with a CPU, but when accompanied by the GPU servers, the image/video would parse quickly.
The process of rendering the scenes with a large number of elements can lag even the powerful servers, as they are not built to manage such tasks.
Our GPU servers would give the power to the machine to smooth the flow of working of parallel video streams, and execution of multiple components.
GPU servers are excellent solutions for online streaming. Running webinars, live programs, streaming to worldwide — these are the high computing tasks and require powerful machines.
Our GPU server can help you in streaming the online event to a large number of visitors, delivering high-quality content to all parallel connections flawlessly.
Get GPU Server to enhance CPU Performance
Included with GPU Servers
Custom Configuration
Select your GPU Servers. The server is built with HPE enterprise parts, tested for compatibility with your GPU selection.
Fast Network
Set up your GPU dedicated server on a global network, customized build for reduced latency, and quick speed.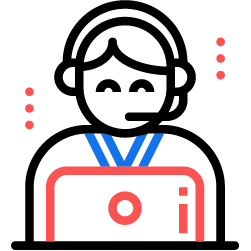 Support
Get the support of the technical team of ServerGuy in a few minutes. No waiting, No Delay. Guaranteed instant help.
Frequently Asked questions​
How good are NVIDIA® Tesla® V100 GPU Servers?
NVIDIA® Tesla® V100 GPU Servers are the most advanced GPU servers. With Volta architecture of NVIDIA, 16, and 32 GB configurations, it offers performance that is equivalent to 100 CPUs. 
How many GPUs can be added to a server?
You can add up to 4 to 8 GPUs to a server; however, adding 16 GPUs to a single server creates complications. Tesla V100 is a modern GPU and one of the best in the market. 
To add more than 8 GPUs, you will need more servers. Contact our team for further details.
CPUs are not built to run lots of tasks at the same time. They focus on one task at a time and then assign the task in sequence on a priority basis. It runs several tasks simultaneously and will lag the CPU, and the performance will be low. 
By adding a GPU server, you can distribute the demanding tasks to the GPU, and the CPU resources will remain free. The combination effectively reduces the CPU workload, and the GPU can escalate the computing task much faster.
Will my GPU server be virtualized?
No.
But you can request your requirements, and our technical team will arrange it.
Virtualized GPU Servers do have their advantage, but it comes at the cost of reduced performance.
Does your Technical team help me?
Our technical team is only a few minutes away from you. If you have any problems or issues with our servers, you can contact us at any time.
Interested to work with us? Let's talk.