Are you looking for a way to collect donations or tips on your WordPress blog? Tip Jar plugins are the easiest way of making money from the fans of your content.
If you are creating content that people are enjoying and want to send money to you as thanks, these Tip Jar Plugins can help you set up the process.
In this post, I am going to share the top 6 donation WordPress plugins that will enable your user to send money to you.
Best 7 Tip Jar Plugins for WordPress
What is Tip Jar?
The concept of Tip Jar is nothing new.
From street performers to the people in the service industry, they try to charm the audience and visitors to impress them enough to get the tip.
Now, digital market has a huge space now, the content creator has started to ask for the tip on the Internet.
For WordPress site, one can install a tip jar plugin that will enable the visitor to donate the money to the creator.
Why Use Tip Jar?
This is one of the ways to monetize your blog. Not the best one, but indeed it is one of the easiest to use. However, the amount of money the content creator will earn depends on the fan following.
Free Products:
Many developers offer a free product and do not ask for any charge for product development. They rely on donations. This way, the software remains free, and the developer also earns money from it.
The same goes for artists, musicians, and writers.
Copyright Content:
If the content creator uses the copyrighted content to create a content that you enjoy, then the content cannot be monetized. In that case, the creators use the Tip Jar.
Learning Resources:
Running a virtual class online, or providing free learning resources, then the Tip Jar donations will help you a lot in continuously teaching the people in need.
Non-monetized Platform:
If you are creating the content on the platform that does not allow any monetization, then you have to use the Tip Jar links. A tiny link (that you can put below the content) will take the users to your donations board.
Well, there could be many reasons to use the Tip Jar on your site.
Usually, these Tip Jar goes in the Widget or below the content. The aim is to give them visibility: the more impressions, the more chances of conversion.
#1 GiveWP
GIveWP is also known as Give. It is a fantastic Tip Jar plugin for WordPress, filled with tons of features that make it one of the best plugins for donation.
This plugin allowed the audience to tip in their currency, hence, making it easier to donate. There are also options for recurring donations.
GiveWP also offers a fundraising feature that you can use to some extent.
There are more than ten payment options with all the popular ones such as Stripe, Authorize.net, PayPal, 2Checkout, Braintree, Mollie, Paytm, PayFast, Square, AmeriCloud, Paymill, and many more.
The functionality of the GiveWP could be enhanced with the help of add-ons.
It allows you to gain a complete understanding of your donation form performance through insightful charts and tables with key performance indicators.
You can keep track of your top donors, and store the donor history. The donation form is flexible and allows for multiple customizations.
Pricing: There is a free version. And the paid version starts from $144.
#2 PayPal Donations
It is a simple WordPress plugin that enables the donation button on the WordPress site through PayPal.
With this, you can create a tip jar and add it to the WordPress with PayPal Donations widget.
You can add the tip jar in a few minutes with this plugin, so if you are looking for a quick solution, the PayPal Donations is the best option for you.
The plugin offers customization and flexibility to some extent. You can change the currency and the localization of the donation button. You can build a custom payment page, and a thank you page.
The biggest con of the PayPal donations is that the payment can only be made via PayPal. And that means that your audience must have a PayPal account.
If you want more payment methods, then you have to check for other plugins, however, if you think most of the users and fans are from a region where PayPal is an accessible mode of payment, then it is safe to use PayPal donation.
Pricing: It is a Free plugin. Although PayPal will cut its charges of payment processing.
#3 Tip Jar WP
Tip Jar WP is a dedicated plugin to accept the Tips on WordPress sites.
This is a new plugin, but it has all the features needed to set up a tip jar on the site.
With the multiple payment gateways, you can get donations via Stripe, Apple Pay, Google Pay, and credit cards.
The plugin makes the process of donation for your visitors hassle-free. Also, the set up of the donation forms with Tip Jar WP is very easy. You can add the form anywhere on your WordPress site with the help of shortcodes.
Features of Tip Jar WP:
Users can tip once, or choose automatic recurring payments.
Multiple currencies allow a user to donate in its currency
User dashboard so the users can take a receipt and customize the plan
Apple Pay, Google Pay, and Credit Card Pay
Besides a 1% transaction fee, you can install it and keep it forever without paying anything.
Allow your users to "pay what they want" for a file download.
Pricing: It is free forever, with a 1% charge of every donation. If you are getting a large amount of tips, you can use other Tip Jar programs.
#4 DonorBox
If you are a nonprofit & want to accept donations on your WordPress site, then look no further than Donorbox's WordPress donation plugin.
It is one of the best donation plugins in the fundraising industry.
It can seamlessly embed within your WordPress website or you can simply use it as a popup widget.
If you want to have sustained & recurring revenue, you can accept weekly, monthly and annual donations within minutes.
Features of DonorBox:
Take payments via cards, Apple Pay, low-fee ACH and SEPA bank transfers, Google Pay, and PayPal!
Customize colors to suit your brand needs
State-of-the-art donation management system
100% Responsive & Secure
Goal meters to attract more donors
DonorBox provides easy donor management, where you can export, filter, and sort the donor data. Besides integrating with popular payment gateways, DonorBox support over 20 currencies.
Pricing: Donorbox charges a flat 1.5% as platform fee apart from Payment processing fees of Stripe & Paypal.
#5 Buy me a Coffee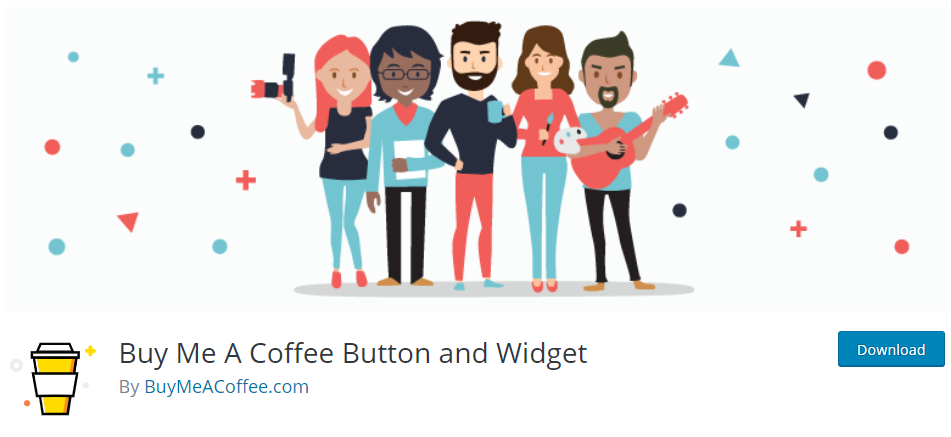 This is one of the most popular Tip plugins and used by the blogger of all niches.
The platform "Buy me a Coffee" is an established tip platform, made to allow the creators to enable a Tip service for their content.
Many web 2.0 bloggers and small bloggers use this plugin. It is easy to set up, free, and a pretty looking program.
Sign up, and you will get the buymeacoff.ee/example link. You can use this link to redirect the audience to your Tip Jar page.
Anyone can buy you a coffee using PayPal, Credit Card, Apple Pay, Google Pay, and other local payment methods. The coffee is a metaphor for the donation, but it is an excellent call to action.
The default buymecoffee widget looks pleasant, but customization options change the look of the widget.
Few cons of the buymecoffee are that you cannot change the paid amount. It will only be $3 or the multiples of $3.
The widget is not a widget but a button floating on all of your pages. But you can use the link to hyperlink the image and add it to the widget. That will work.
Pricing: There is no membership fee, but the platform takes the 5% fee. That is much more than the 1% Tip Jar WP takes.
#6 Cryptocurrency Donation Box
If you want to accept Tip in cryptocurrency, then this is the best cryptocurrency Tip Jar plugin.
Easy to integrate with the WordPress site, the tools can accept donations from over 20 different cryptocurrencies, such as Bitcoin, Ehtereum, Litecoin, and other 20+ major cryptocurrencies.
Simply add your coin wallet address and use this shortcode inside any page/post/sidebar [crypto-donation-box].
Features of Cryptocurrency Donation Box:
Quick and easy integration with MetaTask button
Turn your coin payment address into QR code
Supports 20+ crypto coins with all the popular ones
Pretty donation box with customization availability
Responsive and mobile-friendly design
With this plugin, there is no platform to deduct any fee from your Tips. However, the use of Crypto is not general for now, but if your audience is largely from this niche, then Crypto donation is the best method.
Note: To use these plugins, you need an SSL certificate on your WordPress site. Having SSL installed on the website is important from the security prospects and SEO as well.
#7 Charitable – Donation Plugin
Charitable is used by 10,000+ non-profits for online fundraising. Hundreds of 5-stars reviews prove the functionality of the plugin.
You can create a fundraising campaign in minutes with the Charitable plugin. Add unlimited campaigns, whether they are recurring donations, one time donations, or the time sensitive donations.
Features of Charitable Plugin:
Unlimited campaigns
Time sensitive campaigns automatically ending
Match the theme style for seamless integration
Custom donations and suggested donation pricing
Customize the form and only show important fields
Embed a form anywhere on the website
Cheque, bank transfer or any other offline method
GDPR compatible
Automatic donation emails
There are multiple extensions like Peer to Peer Fundraising, Crowdfunding Platforms with WordPress and Recover Payment Gateway Fees to enhance the functions.
Premium Payment Gateways include:
Stripe
Braintree
Authorize.Net
Mollie
GoCardless
And more.
Also Read:
Wrap Up
In this post, I mentioned the best five tip jar plugins to collect Tips from your audience.
Now, which Tip Jar Plugin is the best for you?
If you are looking for something subtle, Tip Jar WP is fantastic.
If you want reports, analytics, and advance features, you should go with the Give WP.
For the quick workaround, PayPal donations and Buymeacoffee are the best solutions.
And if you don't want to use the platform that takes the fee, then use the Crypto method.
I hope this article helped you.
If there is any issue in setting up any plugin, contact, or leave the comment below.