What is the difference between cPanel and Plesk?
The main difference between Plesk and cPanel lies in their user interface and web servers they support. Plesk user interface is similar to the WordPress admin panel and supports both Linux & Windows servers. cPanel has a graphical interface and is compatible with only Linux web servers.
In this article, we will cover the strengths and weaknesses of Linux cPanel and Windows Plesk so that you can decide which control panel is best for you.
Ready to see who becomes the ultimate winner in the battle of control panels?
Let's begin.
cPanel vs Plesk Quick Comparison:
| | | |
| --- | --- | --- |
| Features | Plesk | cPanel |
| Operating Systems | Debian, Ubuntu, CentOS, RHEL, Cloud Linux, Amazon Linux, Virtuozzo Linux, Windows Server 2008 R2 SP | CentOS, CloudLinux, or RHEL 7, or Amazon Linux |
| Migration | It can be done using the Plesk Migrator Tool. | You have to use the Transfer Tool present in WHM. It cannot be done using cPanel alone. |
| Web Servers | NGINX & Apache | Apache |
| Admin Panel | Same Logins for end-users and server administration | 2 separate logins- cPanel for website management and WHM for server-side administrative tasks. |
| User Interface | Redesigned UX/UI with modern JavaScript technology | Graphical interface |
| Extensions & Apps | You can access more than 112 extensions and apps from App catalogue and extension catalogue | You can access apps and extensions from Softaculous. |
| Security | One-click SSL Security, monitor plugin updates, install security patches and fixes bugs. | You can Blacklist individual IPs, Deploy SSL certificates, Encrypt outbound messages, or form multi-factor authentication to customers. |
| Database access | Offers MySQL or MSSQL Server databases | cPanel allows access to PhpMyAdmin for managing MySQL databases. |
| Mobile Accessibility | Has a mobile app for both iOS and Android | No mobile app |
| Backup | Website backup tools are available like DropBox, AWS S3, Google Drive, and Acronis. You can secure sensitive data in your backups by using password protection. | Backups have to perform manually and are stored in the local backup directory of your server. |
| Support | You can call or chat with them 24*7 without paying any fee. It doesn't matter if you are their partner or not. | You can submit a support ticket or have to pay $65 for priority phone support. |
| SSL | Let's Encrypt + Symantec | Let's Encrypt |
| Latest Updates | You can secure sensitive data in your backups by using password protection. Automated healing and recovery functionality to resolve technical issues without needing skilled support. | One-Click HTTPS Redirection of Websites and Build Node.js Applications. |
Plesk ONYX vs cPanel 2023 Market Share 
cPanel creates a domain every 6 seconds and a hosting account every 14.5 seconds.
cPanel is used by 7.3% of all the websites.
More than 50% of the top 100 worldwide service providers use the Plesk control panel.
Plesk is powered by 4.6% of all websites
It powers more than 10 million websites and applications.
Learn more about Apache vs Nginx here.
Plesk vs cPanel: Which is better?
How to decide whether cPanel or Parallels Plesk is right for you?
There are a few factors to consider:
#1 User Interface
Plesk UI
Plesk Onyx offers redesigned UX/UI with modern JavaScript technology. Its control panel is similar to the WordPress admin panel. It is easy to use and very beginner friendly.
Key Features:
Beginners friendly
Clean user's interface
Easy to locate every feature
cPanel UI
In cPanel for Linux, every item is grouped into sections. Files, Database, Domain, Email, Metrics, Security, Software, and Applications are the different sections you will see on your cPanel dashboard.
Key Features:
Graphical User Interface
Similar features are grouped together
Allows you to customize your dashboard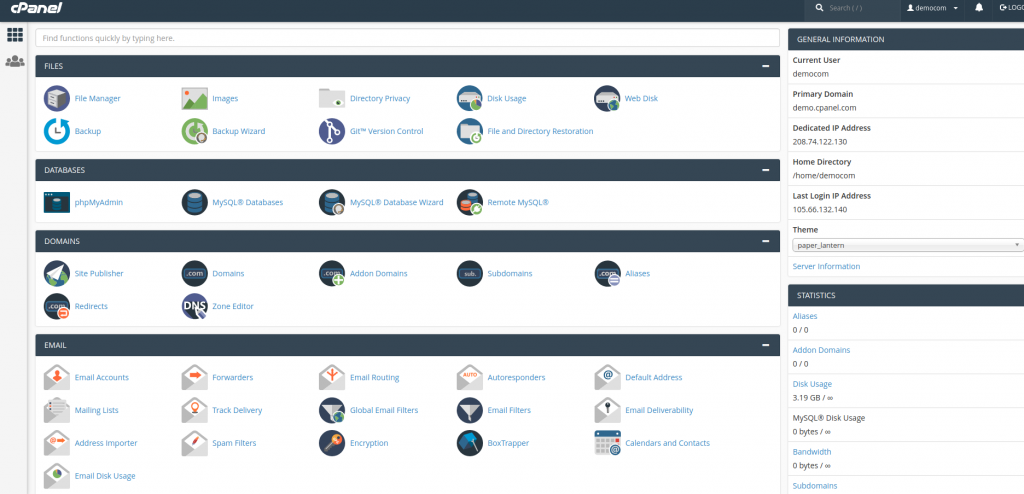 #2 Plesk vs cPanel Support
Official support is a crucial point to consider before making any decision. If in case something goes wrong, you need someone to assist you at any given time.
Plesk Support
You can call or chat Plesk Support 24×7 without paying any fee.
If you are not their customer, you can ask questions on their official forum or social media channels.
cPanel Support
You can raise support tickets on cPanel Support.
Call their Customer Service (Central Standard Time- Mon-Fri 6 AM-6 PM; Sat-Sun 6 AM-4 PM)
To get emergency support, you have to pay $65 for one incident.
#3 Features and Tools
Plesk Features are
Secure WordPress with One-click.
Plesk hosting is virtually OS agnostic. It works with both Linux and windows
Get Support for Docker on Linux with over 200,000 Docker images.
These can be launched from within the web hosting control panel.
It is also compatible with Git, but you will have to use the Gitman extension.
cPanel Features are
Install cPanel & WHM in Less than 5 Minutes
One-Click HTTPS Redirection of Websites
Build Node.js Applications
Imunify360 added to Security Advisor
SpamBox by default on new cPanel accounts
Note:- Plesk supports both Nginx and Apache Web Servers whereas cPanel currently supports only apache web servers. Check out complete Nginx vs Apache comparison.
#4 Security of Plesk and cPanel
Security is the prime concern of any web user. The platform you choose needs to be entirely secure, and both these control panels go the extra mile when it comes to security.
Plesk Security
Plesk control panel supports many security extensions like Immunity 360, Fail2ban intrusion prevention, and active directory integration. Both free and paid versions are available for these extensions.
Key Features:
Security patches within 24 hours.
You can secure your domains by configuring DNS and DNSSEC.
It offers both Let's Encrypt or Symantec SSL.
Automated healing and recovery functionality to resolve technical issues without needing skilled support.
Turn on SSL and HTTP/2 for all your websites at one click with Plesk Security Advisor.
Other than that you also get the following security options in your dashboard:-
cPanel Security
Some of the most famous security extensions offered by cPanel include Automatic installation of SSL certificate, IP address denials and password protected directories. Protect your machines and your customers with cPanel Security.
Key Features:-
Blacklist or whitelist individual IPs or entire regions and countries
Deploy SSL certificates to sites across your server network
Encrypt all outbound messages
Offer multi-factor authentication to customers
Allows easy third-party integration
#5 Operating System
Plesk is compatible with both Linux and Windows servers; however, cPanel functions only with Linux servers.
Plesk Operating Systems
It is a cross-platform program and runs on multiple OS. These include:
Debian
Ubuntu
CentOS
RHEL
Cloud Linux
Amazon Linux
Virtuozzo Linux
Windows Server 2008 R2 SP
Note:- You have to buy a Plesk option for the specific OS you are using. One cannot buy it for a single software suite and then use it on multiple machines that have different operating systems.
cPanel Operating System
cPanel only functions with Linux. It can run on following operating systems:-
CentOS
Cloud Linux
Red Hat Enterprise Linux
Amazon Linux
Let's see how the backup support differs in Plesk vs. cPanel:
#6 cPanel and Plesk Backup
Both platforms offer fantastic support and security, but you never know when you will need a backup. Let's see how the backup support differs in Plesk vs. cPanel:
Plesk Backup
Plesk offers 2 types of backup:
Complete backup which includes all data regardless of the time when the data was last updated and Incremental backup that only contains data that has changed since the previous backup.
The use of Incremental backups minimizes the time of backup operation and the disk space occupied by backup files. These backups can either be stored in the internal Plesk storage or external FTP storage.
Key Features:
You can schedule backups.
Allows you to Back up the entire server
Offers advantage of backing up individual user accounts/subscriptions.
Latest Feature:- You can secure sensitive data in your backups by using password protection.
cPanel Backup
cPanel offers 3 types of backup:
Compressed, where all the information is saved in a compressed format and uses less disk space. Uncompressed, which takes more disk space but runs faster than compressed, and Incremental backups that use hard links to save disk space.
Key Features:
Offers daily, weekly, and monthly backups.
Allows scheduling and retention.
By default, the system saves backup files locally to the /backup/ directory.
Note:- cPanel & WHM does not include an interface to restore system backup files.
#7 Pricing
Both cPanel and Plesk have different price plans according to the services they offer. Do review the descriptions of what you're buying to make sure that you're getting the right option for you.
Plesk pricing
Plesk offers 3 different plans for VPS and Dedicated Servers.
Key Features:
If you manage more than 20 Servers, then you can apply for their partner program., it
The monthly payment option is also available.
Extra discounts if you opt for Annual Plans.
cPanel pricing
cPanel offers 3 options, Solo, VPS, and Dedicated. You can pay on a monthly or yearly basis.
Key Features:
More than 30% Special Partner Discount.
The monthly payment option is also available.
Extra discounts if you opt for Annual Plans.
Plesk or cPanel for WordPress
Plesk Panel is similar to the WordPress Dashboard. Hence if you know how to work on the WordPress Dashboard, then you can easily manage the Plesk Onyx control panel. It also offers an inbuilt WordPress toolkit to make its installation hassle-free. cPanel also offers click installation of WordPress.
Plesk vs. cPanel: Which is better?
The web hosting control panel you choose plays a crucial role in how you interact with your server. It is because your control panel is what gives you the features you're going to require for your project.
cPanel is very popular as it is simple to use and works with Linux-based servers, which power the majority of the Internet.
Plesk is a better option if you're looking to stay with a similar control panel when using multiple servers.
The control panel of Plesk has separate licenses for 10-30 websites, and it works out to be cheaper if you have fewer sites.
But if you have a large number of sites, then cPanel can be a more affordable option.
If you are a beginner and just starting with a website, we recommend Plesk over cPanel.
ServerGuy is a hosting provider where we offer both cPanel and Plesk to power websites around the world. Request a call, chat with us, or leave a comment below if you need further assistance.