Are you looking for a Free Plesk Alternative?
Plesk is a widely popular control panel in the US. By capturing the 75-80 percent of the European market, Plesk is one of the topmost players among the hosting panel tools.
The Plesk has separate versions for Linux and Windows, and several editions, each one modified for the specific type of hosting.
In comparison between cPanel and Plesk, Plesk does have a cleaner interface. However, both of them have similar features and used by large organizations.
Small-Medium businesses use both cPanel and Plesk; however, if you are looking for free Plesk alternative, this list of free, open-source Plesk alternatives will help you.
NOTE: The Plesk or any Plesk Alternative is not an ideal option for an eCommerce store. Why?
Best Free Plesk Alternative:
Here are top 10 Plesk Alternative:
1. Ajenti
Ajenti is an open-source control panel that can manage the different types of server and their management tasks. There are in-built functions in Ajenti to install packages, run commands, getting information such as RAM in use, disk space, bandwidth, etc.
Ajenti is web-based software and is accessible via a web browser.
There are several add-on packages to enhance functionality. One of them is Ajenti V that allows you to supervise multiple websites from one control panel.
Features of Ajenti:
Clean Web Interface
High performance
GUI based on Google'sGoogle's AngularJS
Embedded webserver
Single-page AJAX-based frontend
2. CentOS Web Panel
CentOS web panel is a free control panel made to quick and easy management of the servers. Instead of going around the SSH commands, the users can easily make changes and control the various elements of the hosting account from the dashboard.
Supported by an active community, the CentOS web panel is regularly updated open-source Plesk alternative.
Features of CentOS:
Monitor the MySQL process live
SSL certificate manager
Hardware monitoring from the dashboard
SPF & DKIM Integration
Easy user management interface.
3. Cloudron
Cloudron makes the process of installing, managing, and securing web apps on your server easy.
After installing the Cloudron on the server of your choice (AWS, Digital Ocean, etc.), you can attach the domain name and start installing apps in few clicks. In the backend, the Cloudron automates the tasks of installing databases, DNS set up, and certificate management.
With a centralized way to manage users, you can specify which user gets access to what apps. Cloudron also has a backup solution to backup and restore each app individually.
Features of Cloudron:
Different kind of User Accessibility
Ability to modify the UI for the Brand
Passwords for the Apps
Import-Export option of the Apps
4. Froxlor
Foxlor is a light-weight server management panel but a powerful tool. It is written in PHP, free and open-source.
Froxlor is an amazing software for creating and managing shared web hosting servers. One of the problems is, there is no pre-installed LAMP, but that makes it very light-weight. It displays the Store dedicated HTTP, FTP, and Mail traffic and interactive graphs.
Froxlor also lets you install SSL security certificate in from Let's Encrypt from within the dashboard.
Features of Froxlor:
Different IP address and Port for each domain
Separate php.ini file for each domain
Support from Let's Encrypt for SSL
Quota for shared hosting
Set a limit to multiple resources for Resellers and Customers
5. i-MSCP
i-MSCP is short for the Internet Multi Server Control panel helps in managing the hosting account on the Linux server for shared hosting providers.
This open-source Plesk alternative comes with plenty of modules for different services such as Dovecot, ProFTPd, Apache2, bind9, etc. However, the functions can be extended with the listener files or plugins using the event-based API.
The easy-to-use interface of the i-MSCP lets the users, including clients, resellers, and administrators, efficiently manage the servers, without any manual intervention.
Features of i-MSCP:
External Mail Server support
Remote SQL Server
Plugins for frontend and backend
Web-based UI
6. ISPConfig
ISPConfig 3 is another excellent Plesk alternative hosting panel for Linux. This tool is capable of managing multiple servers from one control panel.
ISPConfig is open source under the BSD license. The new responsive user interface is made of the Bootstrap framework. The responsive design of ISPConfig makes it accessible on phone devices.
Skim integration with ISPConfig allows the digital signing of the emails.
Features of ISPConfig:
Manage multiple servers from one control panel
One control panel manage multiple servers
Web Server Management (Apache2 and Nginx)
Management of Mail Servers
DNS Server Management
Administrator, reseller and client login
7. Sentora
Another fantastic Plesk Alternative is Sentora. It is free to download, open-source software, that means, free upgrades as well as the ability to extend and share.
The Sentora software can turn any server into an easy-to-use web hosting server. You can create a reseller account with Sentora, enabling your clients to resell the hosting you provide.
The users can create and manage any number of services, such as mailboxes and domains. Available in many languages, Sentora is available and recognized across the globe.
Designed for hosting and managing multiple clients on a single server, it is one of the best tools for setting up a shared hosting environment.
Its app-store has several modules that can improve its performance.
Features of Sentora:
Multi-client environment
Ability to set Quota for each client
Multiple API integrations
App stores have many modules
Customization to replicate the Brand Image
8. TinyCP
TinyCP is a new control panel for managing Linux systems and is now only available for Debian/Ubuntu-based systems. The software is still in beta version and looking for suggestions to improve the software.
What makes it different from other Plesk Alternatives is its extremely light-weight.
Features of TinyCP:
Domain management
Multiple Server Management
Cross-platform desktop application
Separated client-side application.
9. Vesta Control Panel
Vesta Control Panel or VestaCP is a free web hosting control panel to managed multiple websites from one dashboard. The user can create and manage email accounts, FTP accounts, MySQL databases, and manage DNS records.
With a clean interface and support of the latest innovative technologies, Vesta CP is an excellent choice for novice users. It is so easy to use. Anyone can use it to manage the sites from the dashboard.
Features of Vesta Control Panel:
Clean and simple graphical interface
DKIM support feature
Inbuilt Antivirus/Antispam
Fast backups feature
10. Webmin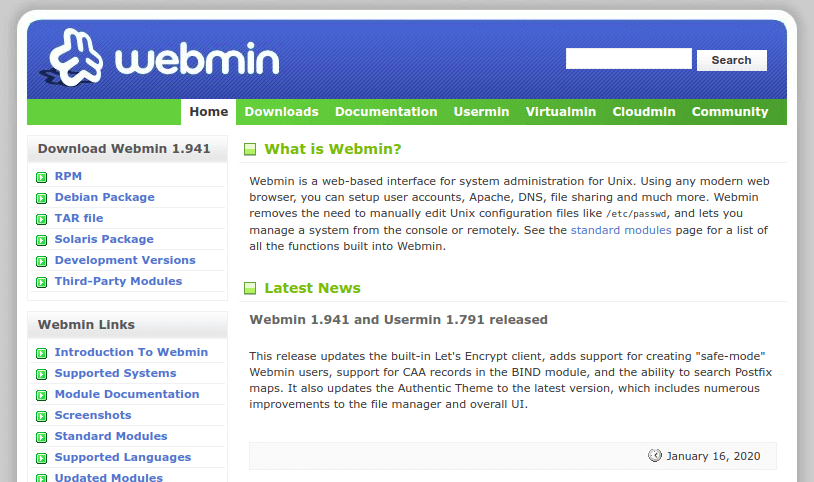 Webmin is web-based Plesk alternative software for Unix-like systems. You can setup user accounts, Apache, DNS, file sharing, and much more with a web browser.
Webmin makes it possible to configure operating system internals, such as users, disk quotas, services, or configuration files. You can also modify and control open-source apps, such as the Apache HTTP Server, PHP, or MySQL.
Features of Webmin:
Faster Mobile user Interface
Flexible design for branding
Concise and readable system data
Standard Features of Control Panels:
Most of the control panels do have a similar set of features as they all perform the same functions.
Few of them would have few features less than the other or would have additional modules, but overall, they all work to achieve one target.
To let the users manage web apps and servers quickly and easily.
Few standard features of them are:
Domain Name management:
It is the feature that lets you add the domains you purchased to the apps installed on the hosting. DNS management works as the bridge between the hosting and domain names.
You can also create multiple sub-domains and manage all of them from here.
Email System management
Another primary feature that all the Plesk Alternative provides is Email Management function.
You can create, edit, delete, and manage the email accounts that can be accessed by the webmail or any other mail programs. Having mail after your domain is essential for branding.
Email management is vital for corporate mails.
FTP Management
The hosting web panel allows the admin to give various access permissions to each user. You can also set up quotas and passwords for each user.
FTP is used by the user that does not interact with CMS directly and use CMS to update the content of their site.
Database Management
Many web sites come with the database, like WordPress, Joomla, etc.
The web hosting panels have a separate space to manage these databases from the dashboard. So, the user doesn't have to meddle through the backend to make changes in the tables.
Logfile Access and Reporting
All the web hosting panels do have metric tools to monitor the bandwidths, disk usage, and another memory-related aspect of the server and web apps.
The panel keeps records of all activities of the site. Users can access them at any time.
3rd Party Apps
You do not have to touch a single line of code to install a script or app on the server. The panel lets you install the packages in the one-click process.
Why Plesk and Plesk Alternative are not the ideal options for Online stores?
Plesk, or cPanel, or any other control panel for hosting works great for shared hosting providers, or WordPress blogs. But when it comes to running an online store, you need the security and manual monitoring of the server all the time.
For the eCommerce store, you need Managed Hosting.
With managed hosting, you will get high performance, total security, and fast loading speed for your site.
ServerGuy is helping eCommerce store in scaling their business with the dedicated managed hosting.
Be it WordPress or Magento, our dedicated team is only a message away. Contact Now.
Final Words
In this article, I mentioned the top 10 Plesk Alternative. The open-source web hosting panel solutions for server management.
However, don't pick a random one from the list. You should analyze your requirements, and then see which one is most suitable for you.
If there is any questions or doubt, leave it in comments.