Festivals bring joy, happiness, and warmth to the society. People tend to be in the holiday spirit during festivals, and easy to convert, as the festival seems to be an excellent opportunity to spend on friends and families.
As an eCommerce owner, you must not miss the holidays and festivals as they can improve your sale tremendously.
In this post, I am going to tell you the top 10 most celebrated holidays in the World. So you can check if you can target them with your product.
Most Celebrated Holidays in World
#1 Christmas
Christmas is mainly a Christian festival, but people around the World celebrate the tradition and practices religiously and secularly.
Though Christmas is celebrated across the globe, Norway, Iceland, USA, UK, & Ireland are the most Christmassy countries.
According to research, 93.4% of American consumers bought Christmas gifts this past year. The average consumer who bought Christmas gifts spent $928.76.
All sorts of products attract buyers during the Christmas season, as the stores give peculiar offers and discounts. However, certain traditions require specific products.
Product that sells most on Christmas:
Candles
Christmas Trees
Cakes
Decorations
Clothes
Bells
Christmas Cards
Date: 25 December, Annually
#2 Hanukkah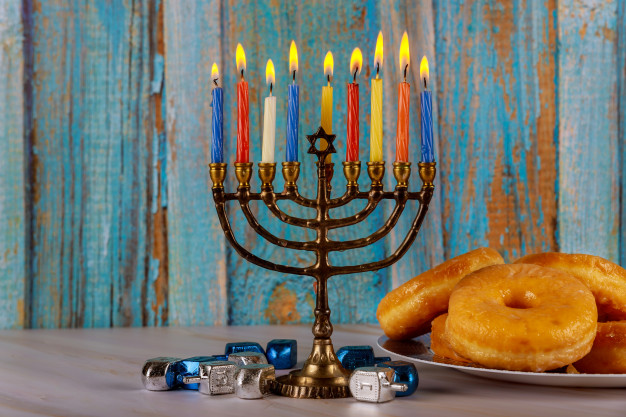 Hanukkah is an eight days long celebration. It is the most celebrated holiday by Jewish people. Jewish People of every country honour their religion and history during Hanukkah.
Hanukkah used to be a private affair of Jewish, but for American Jewish, Hanukkah played a role of attracting their kids towards their tradition. Moreover, it gets along with Christmas as well. Now Hanukkah is vastly popular across the continent, known as Jewish Christmas.
Giving gifts is not a traditional activity, but an inherited one from Christmas. Jewish people like to give money to each other. But parents buy gifts for their kids.
Chocolates, wines, pies, hamantash, and non-kosher foods are acceptable forms of gifts.
Product to sell on Hanukkah:
Dreidel
Gelt
Menorah
Latkes
Chocolates
Date: As per the Hebrew Calendar, English date changes every year.
#3 Thanksgiving
Thanksgiving is another popular holiday in the United States. In 1621, the Plymouth colonists, and Wampanoag shared a feast – America mark that day as one of the first Thanksgiving. During the civil war of 1863, president Abraham Lincoln made it an official holiday.
As per the study by Adobe Analytics, Thanksgiving sales crossed the $4 billion mark in 2019. The sales went up to $4.2 billion, nearly 15% increased from the past year's $3.7 billion. 2020 is expected to see an even bigger leap.
Thanksgiving is a time when people meet their family and have dinner together. The gifts are not an essential part of the festival, what's important is nobody spends it alone. So people invite other people to gatherings, and guests bring gifts to the host.
Thanksgiving is a feast festival, so most of the gifts and products are related to food. Such as Turkey, Potatoes, Sauce etc…
However, Friday following the Thanksgiving is known as Black Friday. It has become a worldwide event for buying products online.
Black Friday products:
All electronics items
SAAS related products
Branded clothes
Home and Kitchen
Date: 26 November, Annually
#4 Saint Patrick's Day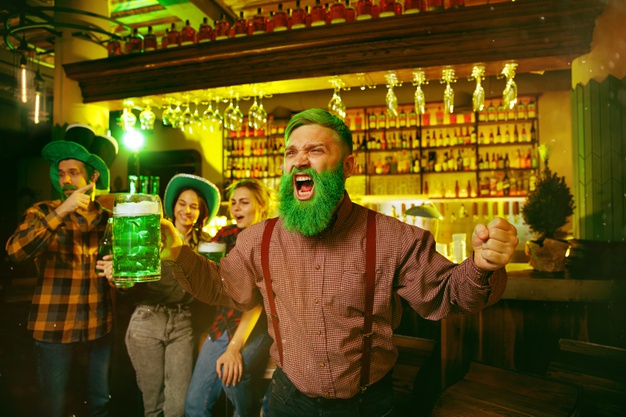 St. Patrick's Day is the day Ireland celebrates their culture and tradition. The day is observed on the death of St.Patrick, the patron saint of Ireland. The celebration includes Irish parades, foods, music, dancing, drinkings, and Green.
Similar to Hanukkah, Irish immigrants in America made the festival secular in the United States, and hence the popularity grew.
National Retail Foundation has reported that St. Patrick's day spent hit a record $5.9 billion.
The best way to target Saint Patrick's Day is to target Green. Having green is a serious thing on St. Patrick Day, from wearing green to eating, drinking, and decorating green.
Best St. Patrick's Day product:
Green clothes
Green food
Green sweets
"Feeling lucky" random drawings
Lucky charms
Parade costumes
Date: 17 March, Annually
#5 New Year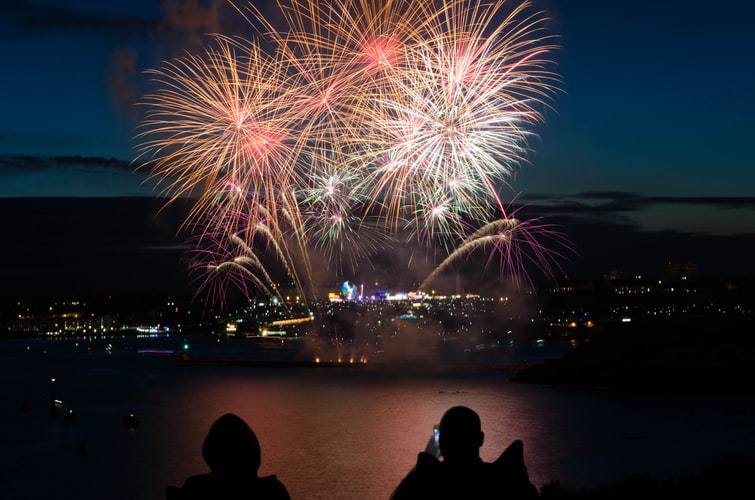 New Year is one festival that is celebrated by people of every religion and country. It is not exactly a festival, just an event when the new year begins, and people say goodbye to the old one.
People make plans and promises of improvement for the next year. New year is the time of excitement, and partying with friends. There is no tradition of giving gifts; however, people gift cards to families and colleagues.
Most important are the resolutions nearly everyone makes on New Year's Eve. People try to better themselves and improve their lifestyle.
For that, they need products that help them in achieving their target. Productive products and various educational membership become the bestselling during New Year time.
Best New Year product:
Items that increase productivity
Motivational books
Educational courses
Career Improvement courses
Health-related product
Gym memberships
As you see, the pattern is clear. People are trying to become a better version of themselves, and if your product can help them, you can promote it to them.
Date: 31st December, Annually.
#6 Eid al-Fitr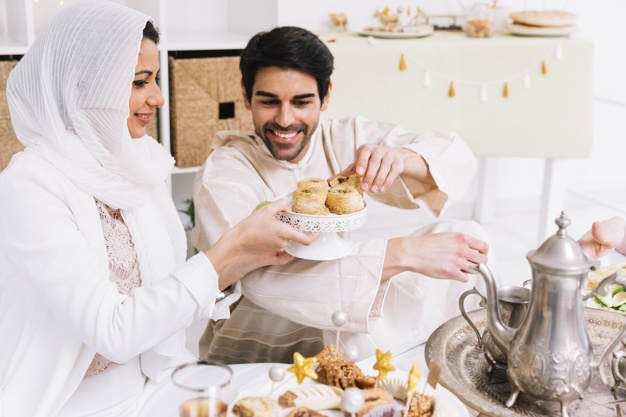 Eid al-Fitr is the largest festival of the Muslim community – seconds most popular religion in the World. The festival comes after one month of Ramadan fasting – a final day to celebrate Ramadan month in the end.
There is no tradition of giving gifts or buying products on Eid, but it is a big festival for the Muslim community. To celebrate, they buy new clothes and sweet dishes.
Moreover, people are ready to spend money on Eid-al-Fitr, so it is a great time to provide sales and discounts. But people usually buy clothes.
If you are a garment seller, or in the business of boutique, Eid-Al-Fitr can be an excellent time to promote your product. Moreover, food companies like Zomato, Uber Eats, and Swiggy target Eid festivals, and provide multiple discounts.
Various eCommerce sites had reported that traffic peaked at 4 AM when people woke up for the pre-dawn meal in Indonesia and Malaysia.
Products to sell during Ramadan and Eid-al-Fitr:
Food and Dishes
Clothes
Shoes
Perfumes
Cutlery
Date: As per Islamic calendar, English dates change every year.
#7 Valentine's Day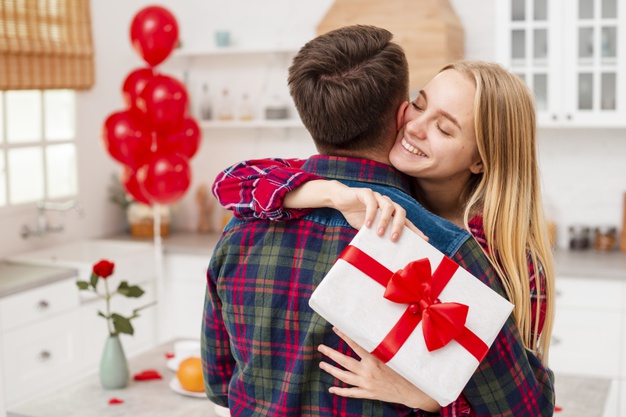 Valentine Week is known as the festival of love, in which people share gifts, candies, and chocolates with their valentine. The gifts are an essential part of the festival.
It is a 7-day festival, each day consisting of different forms of affection to show the partner.
In 2019, Valentine's shoppers broke records by spending more than $20.7 billion on gifts such as candy, greeting cards, date, jewellery, flowers, chocolate etc.… Nextopia studies reported that retailers observed 11% of improvement in average order value during Valentine's week. The trends show that people don't shy away from spending on their loved ones, and partners and they spend with their entire heart.
Products that sell most during Valentine:
Chocolates
Candies
Flowers
Jewellery
Rings
Restaurant bookings
Charms
Cards
There are so many products that people give to their boyfriend and girlfriend on Valentine day.
Date: 14 February, Annually
#8 Diwali
Diwali is one of the largest festivals celebrated in India. Also known as the festival of lights, Diwali is an important holiday, both religiously, and commercially.
eCommerce stores like Amazon, Flipkart, Myntra, etc… prepare for the Diwali sales. They run campaign weeks before the sale and promote the event consistently.
There is no restriction on what product one can sell, as people buy every type of product during Diwali. Be it electronics, home decorations, sweets, food, clothes, vehicle, Gold etc… demand rise in each segment.
However, people have a habit of having sales during Diwali, so the discount price is kind of necessary to sell products on Diwali.
Best products for Diwali:
Gold & Silver
Sweets
Chocolates
Electronic Items
Kitchen Products
Date: The Hindu Lunar Calendar determines the date of Diwali.
#9 Halloween
Halloween is a tradition started from the ancient Celtic festival of Samhain, where people used to dress up to ward off the ghosts.
Gradually, the festival became popular as the people enjoyed wearing costumes and having parties. And people spend a lot on costumes each year.
Halloween festival recorded nearly $9 billion in 2018, and from it, $3.2 comes from costumes. Then there are decorations and candies. It has become a hobby to decorate the place as fear-inducing as possible, and people go to great lengths to achieve that realness.
Best products to sell:
Decorations
Costumes
Candies
Clothes
Wines
Halloween prank ideas
Date: 31 October, Annually
#10 Chinese New Year
Chinese New Year or Spring festival has many names, but it is similar to the New year, but with the Chinese calendar. However, a large part of Asia (nearly 20% of the World population) celebrates the festival.
It is China's longest holiday and goes up to 15 days. People come to China to reunite with their families, which leads to a large human migration for some time as everyone wants to go home.
In the year 2019, festival sales in the first week bring 1.01 trillion Yuan ($147 Billion), with an increase of 8.5% YoY.
People buy all types of products, be it electronics, fashion, literature, kitchens, etc..
Date: Changes according to Chinese Calendar
Wrap Up
In business, each customer matters. Festival can bring so many customers, why not target all the holidays that you can.
In this post, I only mentioned the top 10 popular holidays and festivals in the World. Many small and medium-sized festivals can grow your eCommerce sales.
If you are going to run a promotional event during a festival, make sure your store can handle the enormous traffic. Run a load test before any festival.