In this post, we will be comparing Magento Community vs Magento Enterprise, the 2 editions of Magento.
Both Magento Community and Enterprise Edition platforms, are open source and are a part of the Magento ecosystem. You can access Magento connect and Magento Marketplace on both platforms.
One thing that needs to be clear in this Magento Community vs enterprise comparison is that switching between these 2 versions is not simple. It requires proper integration and planning.
You won't have a smooth migration if your business is not backed up by an experienced team of developers. This is the reason we want to help you to be completely sure before committing to any of these platforms.
Magento Community vs Enterprise Edition
The primary difference between Magento Community and Enterprise Edition is that the community version is absolutely free, while the enterprise edition is a premium option. You can download the community version of Magento at no cost and install it on your server, and make your store. While the premium version is a premium service offered by the Magento, and it comes with technical support, configuration, and other premium features. But both platforms are similar. It is only the service that is different.
The technical aspect and security of community edition are managed by the owner, while in the enterprise edition, the Magento helps the owner at every step.
What is Magento Community Edition?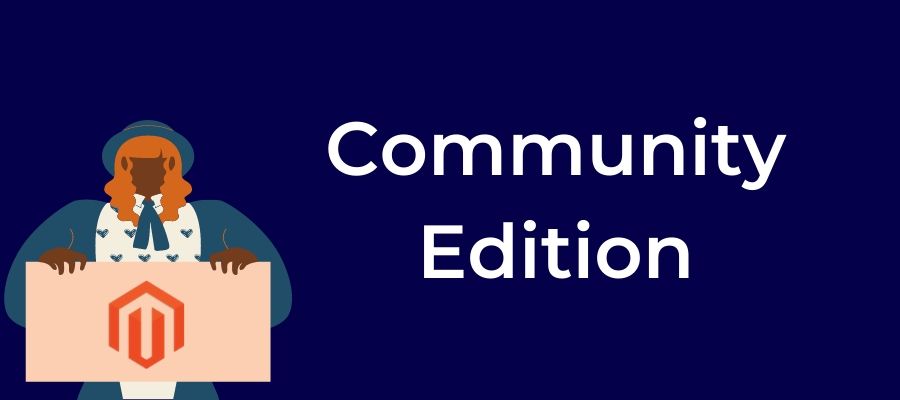 Magento Community is a free platform that can be used to build an e-commerce store. It attracts a lot of small business owners since it requires zero investment.
The community version meets all the requirements of a small store. You can add various functionalities and download Magento extension to make the most out of your store. It also doesn't require any big configurations which also makes it beginners friendly.
Who Needs Magento Community Edition?
One of the significant advantages of picking Magento Comunity edition over the Magento Enterprise Edition is that it's available free. If money is an issue, then you should go with the Magento Community edition.
Also, if you are a new brand, and do not need much customization or advanced modification, then the community edition is suitable for you.
Magento Community Edition features allows agencies to build unlimited eCommerce stores without buying the licenses, and freelance developers also prefer the community edition.
For the owner who has a budget, community edition has no limits, and you can develop an astonishing eCommerce store.
What is Magento Enterprise Edition?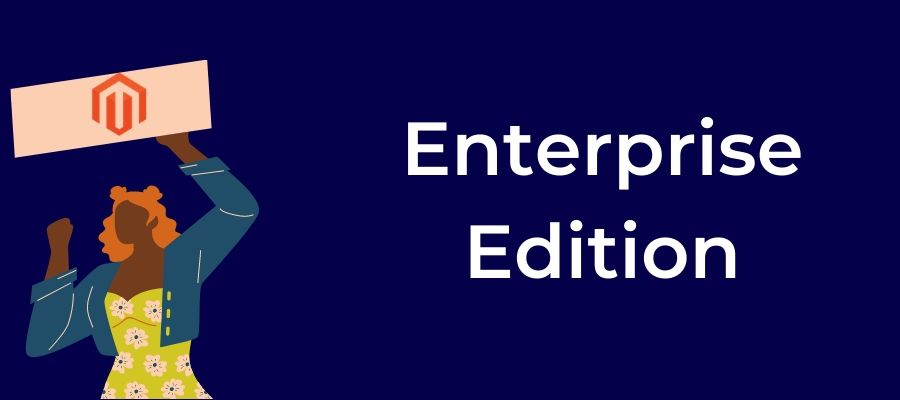 Magento Enterprise, now known as Magento Commerce is a paid version of the Magento eCommerce platform.
It is a great solution for medium to big store owners. Some of the features of this edition include technical support with installation, usage, configuration, and troubleshooting.
Who Needs Magento Enterprise Edition?
As the name suggests, Magento Enterprise Edition is made for enterprise customers.
Magento platform is powerful and built to support the large eCommerce stores. The top Magento 2 websites require dedicated technical support, and a team of developers always ready to solve any issue at any time.
The Magento Enterprise Edition offers that service. A Magento Hosting company can manage your hosting issues, but you cannot solely depend on the hosting companies when it comes to the platform.
So, evaluate your needs. Does your store is critical all the time? If yes, then the Enterprise Edition is for you.
Magento Community vs Enterprise Edition
Let's see the difference between Magento CE and EE, in terms of:
1. Security
Magento Community version is kind of a slacker when it comes to security. It doesn't provide credit card tokenization or secured payment bridges.
Another big problem with the free edition is that it is not PCI Compliant, which is a necessity today.
Magento Enterprise works on filling this gap. It offers multiple secure payment gateways like PayPal, Braintree, Authorize.net, CyberSource, WorldPay, and more.
Other than that, Enterprise edition has a regular scanning process, bug bounty programs, and external penetration testing.
2. Performance
Magento Community edition gives a faster performance to small website owners who have fewer resources on their website. Whereas the Enterprise edition works quicker on websites with high volumes of traffic or products.
You can further improve the performance by adding third-party extensions in both versions.
The difference is the additional features you get in the paid version. Like you get the option to deploy your software through the new Enterprise Cloud, which will increase the speed of deployment.
3. Scalability
Before deciding between Magento 2 enterprise vs community platform, you have to analyze your future requirements.
If you are wishing to grow in the future and add a variety of products, you should invest in the Enterprise edition. This edition is built to scale up and down as per your website's traffic.
Magento Enterprise Edition comes with out-of-the-box features for a growing business. It also offers to minimize and bundle JavaScript and compressing images.
4. Functionality
Since both these platforms are built on Magento, they do offer the same functionalities. These include Advanced ACL, content staging, customer segmentation, SOLR search, RMA functionality, etc.
The added cost in the Enterprise edition offers certain added functionalities like return management authorization, promotion permission, enhanced catalog, and CMS and call center software.
Almost every feature employed on the Magento Community edition is on a basic low scale level.
5. Marketing
A huge difference between Magento Community and Enterprise edition is the product marketing style. You will get a few basic features to boost your store's SEO like customizing meta tags, headings, and URLs.
Whereas the Enterprise edition offers some refined features like advanced content staging, sophisticated attribute-based customer segmentation, targeted content, abandoned cart reminder emails, etc.
6. Support
Magento Community support is provided from the community forums, open source community, documentation, stack-exchange, Reddit, blogs, developers and many groups. The official forums and documentation is available on the Adobe Commerce.
But the official support spin around the Magento Enterprise edition. As the tech stack of Magento Community can be wildly different from the enterprise one, so are the errors.
Basically, you can expect too much from official support on Community Edition. There is forum and documentation, but no call center to resolve your queries.
Support for Community Edition is available via Google search.
Which one to choose?
If you are just starting out your business, Magento Community Edition is the practical choice. You can also give it a try if you are looking to explore some basic Magento features.
However, if you are working on building a brand, go for Magento Enterprise.
Some of the benefits of Enterprise over Community edition are:
Larger catalog management
Enhanced tax calculation
Advanced marketing and segmentation
Faster checkout flow
In the end, decision is yours.
Although, the community edition is freely available, but don't pick anyone because of the pricing.
Find what is best for your store, and gives it that platform. But whichever one chooses, Magento will have an advantage over other PHP based platforms.
FAQ
What is the different edition of Magento?
There are two different editions of Magento. Magento Community Edition and Magento Enterprise Edition.
What is the difference between community and enterprise edition?
The difference between community edition and enterprise edition is that the enterprise edition provides many additional features such as security, support, PCI compliance, and it is designed for enterprises. In comparison, the community edition is for the developers and people who like to take total control over their stores and want everything themselves.
Is Magento free or paid?
Magento is a free platform. But if you want enterprise edition, then you have to pay for the additional services you get with the premium edition.
How much is Magento Enterprise Edition?
The license for Magento Enterprise Editions begins from $22,000, and it can goes up to $190,000.
What is meant by community edition?
Community editions mean that there is an open-source edition available. That edition is supported by an authoritative body or volunteer developers. There are open-source editions or alternatives for all types of SAAS products. For example open-source WAF.
Is Magento good for small business?
Magento is a scalable platform. If you are looking to expand your business, then yes, Magento is good for your business.
Final Words
I hope this post helps you in making a decision on which edition is best for you.
It is vital to evaluate everything before deciding because migrating from one edition to another is one more hassle.
If you decide to get a Community Edition, ServerGuy provides Premium Magento Hosting. This means that we will modify the hosting according to your needs.
We will set up the Magento for you so that you can start quickly and easily.