Are you looking for the best payment gateways to integrate with your eCommerce store?
In this article, I am going to tell you about top payment gateways to enable transactions in the dropshipping store.
Top Payment Gateways
Let's begin without delay.
What is the Payment Gateway?
An online payment gateway creates a secure bridge from a bank account to the platform where a person needs to transfer money.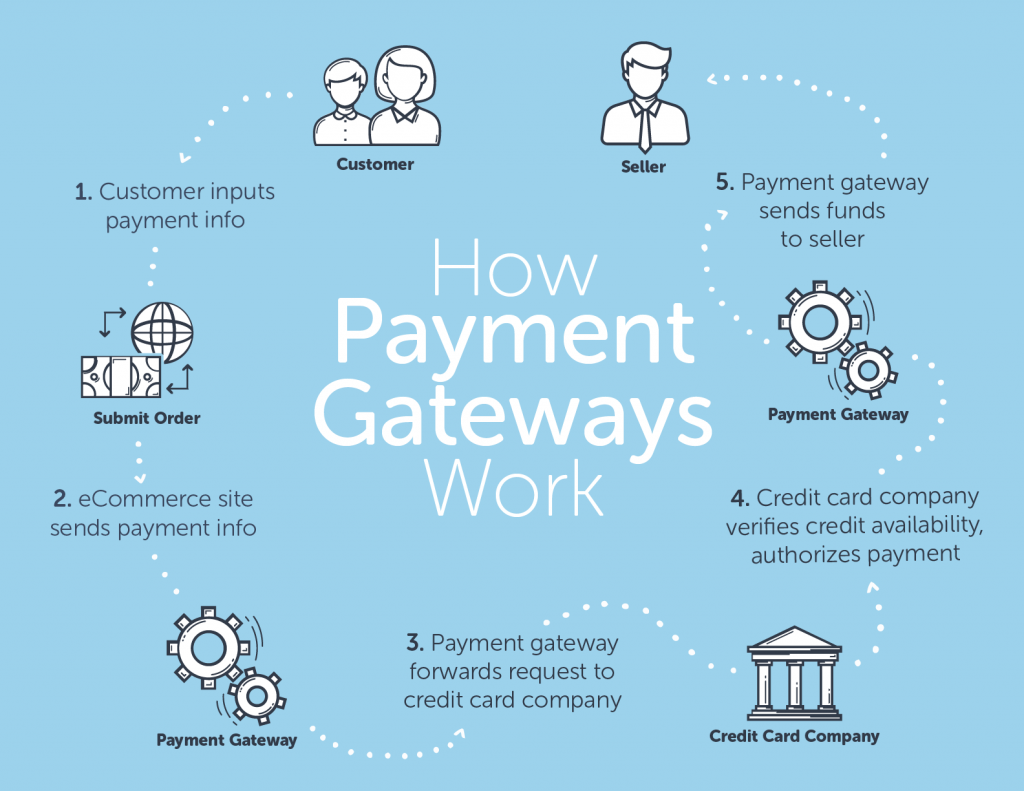 In technical terms, it is software that authorizes online transactions to happen via various payment modes.
Various Payment Modes:
Net banking
Credit card
Debit card
Wallet
UPI
Payment gateways create a secure environment so money could travel from the bank account of the customer to the seller.
Types of Payment Gateways
Three common types of Payment Gateways are:
Redirects
Payment Off-Site
Payment On-Site
#1 Redirects:
As the name suggests, the redirect payment gateway redirects the customers to its page. Then the gateway handles all the transactions.
In a way, when the customer gets to pay for the product, the site redirects to the payment page that the payment gateway manages.
Like PayPal.
Payments via PayPal happen on PayPal's page.
This method saves the retailer from various conflicts and complications of transactions. This simple transaction method is very useful for small business owners.
But it also takes the controls from the sellers. The disadvantage is that the consumer has to complete one more step to pay.
#2 Checkout On-Site:
Most of the eCommerce sites used On-Site Checkout and let the PG manage the off-page.
The front-end payment will occur on the store while the PG will be managing the back-end. Stripe is one of the best software for this type of payment method.
Similar to PayPal, you don't have any control over the transactions. What customers experience during the checkout depends on the payment gateway.
The advantage is it handles the process and saves the site owners from the complicated process of payments.
#3 On-Site Payments
What Payment Gateway Amazon Use?
When the business is big, and the volume of sales is large, eCommerce sites do not use any third-party Payment Gateway. Instead, they develop their Payment Gateway.
All the checkout, transactions, and payment processing happen on the merchant's system.
This is the opposite of the other two.
It takes away the simplicity factor and provides you with a lot of control over the checkout experience of the customer.
More controls mean more responsibility. That's why only big business goes with this type of Payment Gateway.
Why you Need a Payment Gateway?
Be it drop shipping or any kind of eCommerce store, it needs a Payment Gateway to do the monetary transaction.
Payment Gateway provides the tools that allow the payments to happen on the eCommerce site.
A quality Payment Gateway provides many methods to pay.
USA users generally use PayPal, while Payoneer is the most common payment gateway in Canada. Indians are enjoying UPI transactions.
It is smart to use more than one Payment Gateway.
But you need at least one.
Best Payment Gateways
All of them are popular and have quality features that a dropshipping or eCommerce store needs.
The list of the top best payment gateways:
#1 PayPal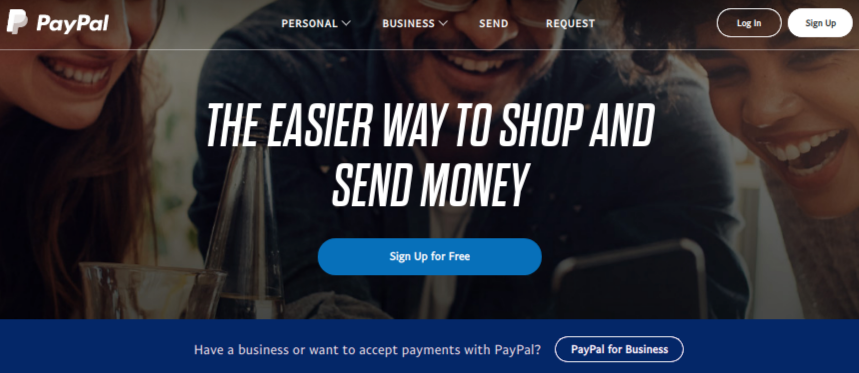 More than 200 countries accept the PayPal mode of method.
It is the most popular way of receiving payment for eCommerce businesses.
PayPal offers two options: Payflow Link and Payflow Pro.
Payflow Link is free, but the checkout is hosted by Paypal while PayPal pro offers total customization of the checkout page.
It costs $25 a month.
PayPal supports all types of cards. With an additional fee, merchants can also buy other functions like Fraud Detection and buyer authentication.
Due to its simplicity to integrate with any site, and popularity, it is one of the best Payment gateways in the market.
Payment Processing Fee: 3.49% + $0.49 (fixed)
#2 Stripe
Stripe is another major Payment gateway. It is mostly used in Canada, Australia, and France.
While Stripe is available in only 26 countries, it supports more than 135 Currencies.
Stripe was founded in 2011, but it has become popular in a very short time.
It has a WooCoommerce plugin that makes the integration a lot easier for small sellers.
Stripe offers a variety of helpful tools.
With the mission of increasing the GDP of the internet, Stripe is giving competition to PayPal.
Payment Processing Fee: 2.9% + $0.30 per successful transaction
#3 CCAvenue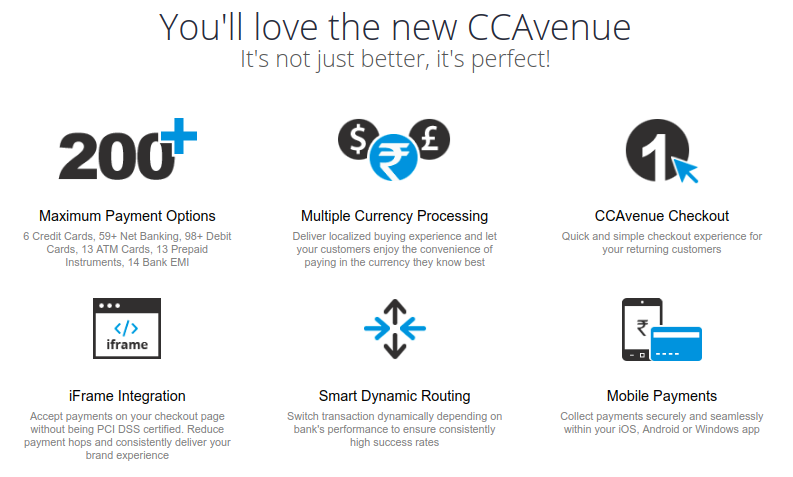 CC Avenue provides a complete shopping solution for eCommerce sites.
Its Payment Gateway is a secure tool with many functionalities.
CC Avenue offers many payment options. It supports 27 currencies and also has a multilingual checkout page.
Customizable checkout page and card storage vault make CC Avenue an attractive payment gateway.
It provides plugins and addons for all the platforms and makes the integration easy.
On the other hand, pricing is high. With zero setup fee, the transaction price goes as high as 4%.
And the payout is low. It sometimes takes weeks and months of time.
Payment Processing Fee: 0.20% – 0.50%
#4 2Checkout
One of the best payment gateways for the dropshippers is 2checkout.
After integration, your eCommerce store would be able to process 87 different currencies in 5 languages.
2Checkout is a global payment method serving in more than 200 countries. But it still has a local image that looks familiar to the buyers.
It offers fraud protection with no extra fee. Available extensions make the integration a lot easier.
The prices are high for all the plans, but they are as transparent as they could be.
There are no hidden charges.  There are three payment ways:
2 Sell: 3.5% + $0.35
2 Subscribe: 4.5% + $0.45
2 Monetize: 6.0% + $0.6
#5 Authorize.net
Authorize.net is available in the market since 1996, hence one of the oldest payment gateway.
There is no setup fee for small business owners, and the transaction fee is low too. Though Authorize.net asks for a merchant account, you can make one with Authorize.net.
It accepts all the cards, PayPal and Apple Pay.
Authorize.net is a global payment gateway and does not support the native methods of online payment.
With the help of extensions and plugins, Authorize.net is easy to integrate with any store.
Payment Processing Fee: 2.9% + 0.30 per successful transaction.
#6 BlueSnap
BlueSnap is a global payment gateway with hundreds of payment methods included.
It provides payment for all types of sales, be it digital, subscription, membership or a physical one.
BlueSnap supports PayPal, Apple Pay, VISA, MasterCard, Discover, Masterpass, Visa Checkout, Google Pay, Alipay, and many more, giving shoppers tons of choices to make a payment.
BlueSnap is one of the most secure payment gateways.
If your business has large sales and you do not want to compromise with payment security, BlueSnap is an excellent Gateway.
Plugins are available to integrate for all popular platforms.
Payment Processing Fee: 2.00% per successful card transaction
#7 Google Pay
The Payment Processing Fee depends on the transaction value:
2.9% + $0.30 for transactions less than $3000
2.5% + $0.30 for transactions from $3,000 to $9,999.99
2.2% + $0.30 for transactions from $10,000 to $99,999.99
1.9% + $0.30 for transactions of $100,000 or more
Google Pay is one of the most popular payment gateway used by ecommerce store owners in India and western region. Google wallet is very popular among US and European people. Using Google wallet makes it easier and faster to pay for any product and services through Google checkout.
Features of Best Payment Gateway
These 6 are the best payment gateways.
They all have the features that quality Payment gateways must have.
However, if you go with a different one, these points will help you to find the right one.
#1 Compatibility:
It is better to avoid the PG that is difficult to integrate with the site. It is never a good idea to add complicated programs to the site.
#2 Speed:
Speed is a significant factor while deciding on a payment gateway. You do not want to lose the customer due to the late processing of payment.
Also, look for how fast these payment processors are securing the payment in your account.
#3 Device Adaptable:
The best payment gateways work on every device. There is many devices out there: Mobile, Tablets, Pads, Mini-Laptops, etc. etc
Customer experience should not be changed when doing shopping from different devices.
#4 Fraud Detection:
Some Payment Gateways adds a secure layer for frauds detection.
When sales are in large numbers, it is important to notice any fraud happening on the site before the big loss.
#5 User Interface:
You need to login into the payment gateway account many times.
A simple interface helps in studying the chargebacks, fees, and other financial statements. PG will become a problem if the interface is not user-friendly.
#6 Reporting:
Reading the stats and data is vital to improve the business. You might need reports of all the transactions, chargebacks, cart abandonment, and commissions.
Cost and Fee:
There are generally two types of fees for eCommerce payment gateways.
The base Fee is the monthly fee or the setup fee. The Transaction Fee is the one that is per order fee.
Few PG does not ask for a setup fee, but the chargeback is high. Some ask for a high monthly fee but keep the transaction fee low.
Choose according to your need.
#1 Auto charge:
Auto charge means charging the customers after a time. It is like an auto-renewal service on payment.
Not all Payment gateways have this function.
#2 Multiple Payment Methods
A quality payment gateway provides many methods of payment.
Like:
UPI
Cards
Net banking
Wallets etc
It is better to give many options to the customer, so he can choose whichever method he find more familiar.
Payment Gateway that Is Easy to Use with Dropshipping
There is no single answer to this question. It depends on the business. If your business is in the USA, you may like to use PayPal as it is the most used Payment Gateway.
Similarly, if your customers are familiar with a payment method, you would like to install that one to improve the conversion.
Quick Questions
What is a payment gateway for example?
Payment Gateway is a software that enables the transaction on eCommerce sites. A payment gateway creates a secure environment for monetary transactions to happen.
PayPal, Amazon Pay, Skrill, Authorize.net, and BlueSnap are a few examples of Payment gateways.
Which online payment system is best?
No one is best. It is all about the needs of the seller.
There are a few characteristics that you can look for.
Which Payment gateway is popular among the population you are targeting?
How fast payment processing happen?
How fast is the payout?
Tight security of the Payment Gateway.
What are the most popular payment gateways?
PayPal, Stripe, and Amazon Pay are the most popular among the Payment Processing Programs.
Paypal has the largest market share in the Industry.
Final Words
No eCommerce business is complete without a payment gateway. The store needs it so the customer can pay for the product he is buying.
Choosing one could be a problem. That's why I suggest experimenting with two or more. Keep the one that works great with the store.
Now you have a list of all the best payment gateways for dropshipping store. They all are easy to integrate with any platform and have a simple interface.
Do tell me which payment gateway you are using on your site. Do you want to add any other Gateway to the list?
Leave the suggestion in the comments.