Magento is a powerful e-commerce tool. It has grown to be the most reliable platform, trusted by businesses of all sectors and sizes. But when we talk about Magento success, online retailers emphasize the role of right Magento 2 extensions.
Well, it's true! If you want to make the most out of this feature-rich platform, you'll have to install the best extensions for Magento and use them wisely. These Magento 2 plugins help extend the functionality of your online store and optimize them for high-returns in the future.
Note: More and more eCommerce owners are now moving from Magento 1 to Magento 2. We also recommend our customers to migrate to Magento 2 for a better experience with a lot more features.
Once you've successfully migrated your store, don't forget to optimize your Magento 2 store, and use the best Magento 2 extensions for improved sales.
How to Choose Best Magento 2 Extensions?
The list of the eCommerce plugins over the web is a never-ending one. Howbeit, it's crucial to find out the fruitful ones for the sure-shot success of your online store.
With the use of the best Magento 2 extensions, it's easy to take care of the tasks pertaining to your shopping site and enhance its functionality to stand out from your competition.
Here's how to choose the best Magento 2 plugin:
#1 Don't Just Look at the Stars
Yes, ratings don't tell everything about a plugin. Go for the reviews, expert advice, and professionals who have really used the plugins earlier. Also, don't download any random plugin in your Magento 2 store.
Each plugin that you install should support your business.
#2 Money Matters
The debate on free extensions vs. paid is an evergreen topic. Truth be told, just going with the free Magento 2 add ons won't really help your online business.
On the other hand, right paid extensions will really make a difference in your e-store's performance that the free ones fail to.
In a nutshell, paid extensions are the investment that will reward you down the road with high returns.
#3 Quick Customer Support
Whichever plugins you choose for your Magento, make sure to look for great customer support. This will help you in adverse times.
#4 Recent and Regular Updates
Updates keep your shopping site new-like and better it every time. New features also add an edge to your eCommerce store and make it superior to your rivals.
Now we know that finding right Magento 2 extensions from the pool of options is like searching for the diamond in a coal mine. Therefore, to make it easy on you, we've handpicked some of the best Magento 2 extensions designed specifically to help your store perform better.
Best Extensions for Magento 2 Stores
Listed are the 21 best Magento 2 extensions to grow your eCommerce business. The extensions are divided into 6 major categories to make it easy for you to choose.
Now let's know these Magento 2 plugins in detail. don't forget to compare the highlights of each extension to make the better choice for your e-store.
1. Magento Payment Gateway Extensions
Magento 2 payment or checkout extensions help simplify the complex checkout process. Your users want an easy checkout and safe payment methods. All these three Magento 2 extensions deliver a safe, efficient and speedy checkout.
1.1 One Step Checkout by Amasty
Turn your checkout page into real eye candy with Amasty's One Step Checkout extension for Magento 2. This plugin will not only speed up the process but also will enhance your customer satisfaction.
Easy and fast checkout will turn your buyers into regular customers. With this Magento 2 checkout extension, you can completely customize and optimize your checkout page design.
Highlighting Features:
Set default preselected values for particular checkout fields

Automatic geolocation detection with GEO IP tool

Edit Product options (configurable and custom)

Display delivery date and time options

Amazon Pay support

3-month free support

Free lifetime updates

60 days money back
Price: $249 Community | $549 Enterprise
Star Rating: 5 stars
View Demo:
Check out for customers

Check out for guests

Backend demo
1.2 Sage Pay Integration by Magenest
Sage Pay is one of the best and most trusted Magento 2 extensions. This payment gateway is quick, secure, and easy to install:
with this Magento 2 extension, website owners can also build multiple subscription plans for each product if they like. This adds more flexibility and offer variety to the buyers.
Here's a picture showing secure payment through Sage Pay:
Highlighting Features:
3D secure (additional security layer for online credit/debit card transactions),
Accepts all major credit cards (Visa, MasterCard, American Express)
Process direct refunds
6-month free support
Free Installation service
Updated to SagePay Protocol 3.0
Multiple Subscription Plan
High customer satisfaction
Price: $149 Community | $349 Enterprise
Star Rating: 4.5 stars
1.3 Checkout Suite by IWD
Lock in your shoppers with a secured and flexible checkout process of Checkout Suite extension for Magento 2. It comes from IWD which is a very reliable source for Magento 2 extensions and services.
When you buy it for free, you get all these features:
Highlighting features:
One Page Checkout
Responsive design
High conversion rate
QuickPay buttons for quick checkout
Excellent Guest Checkout functionality
Price: Starts at Free | $25 per month
Star Rating: 4.8 stars
2. Magento Shipping Extensions
E=commerce shipping is a grueling process. Delivery date, managing shipment, picking, and packaging, etc. can put you under stress. Thanks to Magento shipping extensions that make your shipping process easy-breezy. Here are the top three shipping extensions to manage the shipping process and give you a sigh of relief.
2.1 Advanced Shipping by Owebia
Advanced Shipping by Owebia, is an amazing Magento 2 extension to create a unique, easy and clear shopping cart for your customers. This Magento 2 extension lets you configure shipping fees in a very flexible manner.
All your buyers will be happy with the neat and clean layout of shipping page; this will help enhance their user experience.
With Advanced Shipping extension, you can set shipping fees using all necessary variables like price, quantity, destination, date, weight, categories, coupon codes, product attributes, item options, customer attributes, Magento custom variables, and more.
Here's the example of the shopping card made by using the extension.
Highlighting features:
Manage drop shipping (one or unlimited shipping methods)
Manage fees reduction with specific coupon codes
Add flexible and variable attributes
Free of cost
Price: Free
Star Rating: 4.8 stars
Download Advanced Shipping
2.2 Delivery Date Scheduler by Appjetty
Delivery Date Scheduler by AppJetty is an amazing extension for Magento 2 by Appjetty. It helps empower your customers the freedom to select the delivery date and time according to their convenience.
Also, this shipping extension has a fine, user-friendly interface that lets you select any of the delivery schedule format: "Timeslot View" or "Calendar View" in a single checkout page.
P.S. When you choose Delivery Date Scheduler for your Magento 2 store, you ensure easy, on-time delivery to meet your shoppers' expectations.
Highlighting features:
Let customers choose the delivery date and time
Set intervals between order and delivery dates
Display Scheduler on the shipping page
Let your customers add comments
Delivery Orders Tracking
Price: $49 for 3 months | $74 (with installation)
Star Rating: 5 stars
90-days Free Support
2.3 Order Manager Suite by IWD
Keep orders and delivery uncertainty away with IWD's Order Manager extension for Magento 2. You can easily manage your entire order workflow with this single IWD extension.
With Order manager for Magento 2, easily organize your multi-warehouses inventory sources, generate detailed invoices, and modify existing orders customer information.
Moreover, you can let your buyers apply coupons, add custom amounts and do a lot more.
Highlighting features:
Secure payments with Authorize.Net CIM
Colored rows for glanceable order statuses
Manage sales representatives and commissions
Change Payment & Shipping Methods, and customize order grids with its Pro version.
Price: Free
Star Rating: 4.9 stars
2.4 Magento 2 Store Pickup by Mageants
With MageAnts Magento 2 Store Pickup extension, a customer easily navigates to the store location via the product page they want to purchase. Retailers configure all physical stores they have and add the store information that includes store name, address, working hours, etc.
This Module helps both store owners add collection points to let the shoppers buy online and store pickup for Magento 2 from the nearest store and customers to shop anything without any hurdle.
Highlighting Features:
Easy navigation
See all pickup details
Flexible in-store pickup
Order status notification
Buyers choose the pickup date and time
Price: $89 Community | $189 Enterprise
Star Rating: 4.2 stars
3. Magento SEO Extensions
SEO is important not just for blogging sites but also for the e-stores too. If you have little idea about how to increase your rankings placement in SERP, these plugins will offer a one-stop solution for all your SEO woes!
3.1 Magento 2 SEO Extensions by Magefan
Magento 2 SEO Suite Ultimate Extension by Magefan is a robust solution to help you improve your rankings in search, drive more traffic, attract targeted customers and drive more sales correspondingly.
It covers all many Magento SEO related features with the bundle of 7 powerful modules responsible for different features of your store. You can configure meta tags templates for products and categories, set up canonical tags, configure auto-redirects, generate XML and HTML sitemaps, configure rich snippets, optimize social media tags – OG and Twitter Cards and that's not even the end of the list.
Each feature is straightforward and easy to follow so you don't have to be an expert to manage your website SEO .
Highlighting Features:
SEO templates for the product, category meta title, descriptions keywords, and H1
Automatic SEO-friendly permalinks
Canonical tags for the category, product, homepage, CMS, contact, Magefan blog, and specific pages
Pagination With Rel="next" And Rel="prev" for catalog categories
Max-snippet, max-image-preview, max-video-preview robots meta tag
Automatic redirects from disabled products and categories
Automatic redirects to product and category canonical URLs
Price: $177.50 Community | $470 Enterprise
Star Rating: 5 stars
3.2 SEO Toolkit by Amasty
SEO Toolkit by Amasty is designed to improve your e-store's ranking by automating meta tags templates for products and categories. It also helps enrich snippets with price, stock status, and breadcrumbs.
With SEO Toolkit extension for Magento 2, you can create unique product links, build automatic cross-links, and create sitemaps for better performance and ranking.
Here's the example of advanced HTML Sitemap made by SEO Toolkit.
Highlighting Features:
Advanced pagination + redirects
Rich snippets in search results
Create meta tags templates automatically
Generate automated internal and external cross-links
Advanced HTML and XML sitemaps
Price: $249 Community | $549 Enterprise
Star Rating: 4.9 stars
Demo:
General SEO Settings
Automate Cross-linking
Unique product URL building
3.3 SEO Suite Ultimate by Mageworx
SEO Suite Ultimate by Mageworx is an all-in-one SEO extension for Magento 2. It is built to make your e-store stand out in Google Search and maximize your website's SEO efficiency.
Use advanced templates to mass-optimize any meta values, descriptions, URL keys, SEO names, etc. for ANY product/category/CMS/category filter pages.
Performing right SEO practices on your Magento 2 store means making your store top in SERP, getting more organic traffic, and increasing the no. of the buyers. SEO Suite Ultimate lets you do all of that.
Here's how you create cross-link to build well-organized website architecture:
Highlighting Features:
Quickly optimize any site URLs and metadata
Improve store crawling and indexation with XML & HTML sitemaps.
Easy automated cross-linking
Boost your store click-through rates and visibility with advanced Rich Snippets.
Eliminate duplicate content, set redirects, and add breadcrumbs
Price: $299 Community | $598 Enterprise
Star Rating: 4.8 stars
Demo:
Store Demo
Admin Demo
3.4 Snippets Generator by Apptrian
Cover all the important SEO activities for your Magento 2 store with Snippets Generator by Apptrian.
It's an excellent SEO plugin that helps you create advanced rich snippets for your Magento 2 store. With this, you can easily improve your store click-through rates and boost your visibility on the search engines.
Highlighting Features:
Adds Facebook Open Graph
Google Rich Snippets (Schema.org JSON-LD)
Pinterest Rich Pins, and Twitter Cards
Applies to the products, category, home, and CMS pages.
Various customization options
Enable or disable the extensions easily
Price: $60 | $110 (with installation)
Star Rating: 4.5 stars
Contact them for more info.
Note: To make your e-store rank better on Search Engines, you need to follow certain SEO principles and perform some activities. Refer to the image that tells what you need to do for online SEO success.
4. Magento Security Extensions
Security is an important part of an e-commerce store, especially if you have a large Magento 2 store that's famous worldwide
You can't afford to avoid your website's security and put your customers' sensitive data such as credit cards, debit card, and contact details at risk. Here, Magento 2 security extensions, come in handy.
Also, you must follow these 10 Magento security tips to prevent your store from any digital threats.
coming back to Magento 2 extensions; our top 3 security extensions for e-stores are:
4.1 Security by Mageplaza
Now no more security blues with Mageplaza Security Extension.
Security Suite by Mageplaza is a perfect security solution for online stores built on Magento 2 platform. It helps prevent break-in attempts from hackers and lock them out.
This Magento module also provides store admins a security checklist that offers the site-owners valued information and warnings about possible security risks. The topics revolve around admin username, captcha, Magento version, and database prefix security.
Some other excellent features of Security Plugin by Mageplaza are:
Highlighting Features:
Brute-force attack protection
Track and record all logins
File change detection to find out any unwanted adjustment
Away mode to restrict any logins in specific time or days.
Price: Starts at Free | $149 Community | $349 Enterprise
Star Rating: 4.9 stars
4.2 Two-factor Authentication by Xtento
If you think, just by using a strong password, your Magento store will be secured, you might want to think again.
Passwords ain't secure enough! You need to use trusted Magento security extensions like Two-factor Authentication by Xtento to strengthen your store's security and lockout the hackers and botnets.
It adds an additional security step where an information will be required when logging into your Magento backend. Besides the username and the password, the user needs to enter an OTP (the One-time password that's sent to him) to log in.
The best part? Each security code is valid just for 30 seconds and is for one-time use only. Hackers or bots won't be able to break into your website without accessing your smartphone.
The Magento 2 extensions from Xtento are fully secure and satisfactory. The image shows why people count on Xtento and its services.
Highlighting Features:
Create Secret Key feature to strengthen your store's security
OTP that's valid only for 30 seconds
Free install service
6-months free support
Price: $79
Star Rating: 4.8 stars
Contact them for more info.
4.3 Magefence Security Extension
If you're afraid that hackers could log into your Magento backend, and download your orders, customers and other sensitive data, fear no more. Magefence security extension is there to put all your security woes to an end.
Magefence protects your online business from brute-force attacks, malware, data sniffing and unauthorized logins. Installing such Magento 2 extensions means ensuring safety against all digital threats.
You can also change your Magento admin URL from "/admin" to something new and smart.
Highlighting Features:
Security Audit of your Magento store
Examine your site for Malware
Enable protecting your store from Brute Force Attacks and hacking
Able to ban undesired visitors from accessing your site
Price: $159 Community | $509 Enterprise
Star Rating: 4.9 stars
5. Magento Optimization Extensions
When w talk about a store's performance, its page load speed is the first factor that determines its performance. If your store is suffering from slow speed and sluggish product loading, we're sorry to say that your business can see a downfall. Here's where Magento performance optimization extensions fit best into the picture.
We've hand-picked the top three extensions for Magento 2 stores that can sky-rocket your website speed and optimize it for online growth.
Note: Only extensions can't take your store to heights, follow this ultimate guide on Magento 2 performance optimization.
Now, let's know these three amazing Magento 2 extensions for optimization.
5.1 Minify HTML CSS JS by Apptrian
Apptrian is a trusted source for Magento 2 extensions. Minify HTML CSS JS is an excellent extension that inlines CSS/JS and speeds up your site.
This Magento extension is a small yet efficient extension. It helps you minify HTML code including inline CSS and JavaScript code.
Merge and Minify CSS and JS is a built-in feature of Magento 2. This extension doesn't influence this functionality in any way.
Here's a genuine example of Google PageSpeed Insights after using the extension.
Highlighting Features:
Very easy to install and use.
Compatible with FPC and Varnish cache extensions.
Compatible with: 2.0, 2.1, 2.2, 2.3
Option to set Maximum HTML Minification
Price: Starts at Free | $49 (with Installation)
Star Rating: 4.5 Stars
Contact them for more info.
5.2 Performance Optimization Tool
Performance Optimization Tool by PotatoCommerce is a great extension for Magento 2 stores.
As you know, slow sites can be disappointing for your visitors, and also impact your SERP position negatively. You need to stay ahead and enhance your site speed with optimization extensions like Performance Optimization tool for Magento 2.
It is an advanced solution to optimize JS and CSS files and minify HTML for better store performance.
The image below compares the performance results before and after using the Performance Optimization Tool.
Highlighting Features:
Minify HTML, CSS and JS files
Load all images by one HTTP request
Defer parsing of Javascript
Merge CSS and Javascript
Free and lifetime technical support
Free installation service
Price: $199 Community | $398 Enterprise
Star Rating: 4.9 stars
Demo:
5.3 Full Page Cache Warmer by Amasty
A fast store is the first thing you need to attract more shoppers. Warming of important pages is imperative to offer users with flawless store performance and unique experience.
Full Page Cache Warmer is an extension for Magento 2 stores to automate the cache warming process timely and make it invisible for customers.
There's also a debug option that works on the staging environment with native Magento cache. You can specify particular IP addresses to see their cache statuses. Leave the field blank if you don't want to limit cache status display.
Here's the example of how to use Debug mode:
Highlighting Features:
Warm all important pages first
Automate cache warming process
Exclude specific pages from warming
Auto-update cache after the changes
Warmer log & performance reports for monitoring
HTTP authentication
Price: $199 Community | $499 Enterprise
Star Rating: 4.8 stars
Cache warming Demo.
6. Other Important Magento 2 Extensions
Now, after installing the most important extensions for your Magento store from the list above, it's time to explore some more cool Magento 2 extensions that can help your e-store stand out and make it more efficient for online success.
These extensions will offer an edge to your shopping site and make it your customers' favorite. Our 6 must-have extensions for Magento 2 users are:
6.1 MageMob Admin by Appjetty
Handling Magento backend from your smartphone seems to be a dream; MageMob Admin makes this dream come true!
Yes, let's start with a tool that stays on your fingertips 24*7. It's a Magento 2 admin app that lets you manage your Magento 2 website from the backend of your mobile phone.
No matter where you are on the earth, you can still keep a track of your order details, manage customers and products, monitor order fulfillment and do a lot more.
MageMob Admin is a 100% native App that helps you to manage your Magento 2 backend anytime, anywhere.
Highlighting Features:
Provides Multiple Store Support
Enhanced Security for the Application & System
Instant Push Notifications for Different Actions
View & Manage Customer Reviews
Get Business Insights Based on Different Reports
Price: $79 (3 months) | $119 (6 months)
Rating: 4.8 stars
Demo:
Front-end
Back-end (Username: magemobadmin Password: magemobadmin123)
6.2 Language Translator by MageCube
Running an online store globally? Want to serve customers from different parts of the world in multiple languages? If global success is your aim, there's no looking further than Language Translator Extension by Magecube.
It's a multilingual extension for Magento 2 store owners to help attract users from different languages. The tool lets you translate your complete Magento website (CMS pages, blocks etc.) in a few clicks. Or if you wish, add & translate custom phrases to your store.
Highlighting Features:
100% Hassle-Free Bulk Translation.
Inbuilt Language Manager to search and translate the specific phrase in any language.
Add Special Variables for which translation needs to be avoided. (like website's name, description etc.)
Offers 100+ languages for translation.
30-days free support and lifetime free updates.
Price: $89 with installation
Star Rating: 4.5 stars
6.3 Actionable Google Analytics by Tatvic
Actionable Google Analytics by Tatvic is one of the most popular and trusted Magento 2 extensions to track and report your e-commerce website traffic. It comes with a lot of startling features like user ID tracking, insights from digital devices etc.
After installing this Magento marketplace extension, you can focus on other important actions rather than tackling complicated code. Simple Magento Google Analytics extensions manage and display all the traffic data on your site.
Highlighting Features:
Quick & Easy Installation

Supports content grouping, product refund, and IP anonymization

Access to 5 Reports (shopping, checkout, product, sales, and product performance)
Ad-words Conversion Tracking
Facebook Pixel Implementation
Price:
$89
Star Rating: 4.8 stars
6.4 Magic Zoom by Magic Toolbox
It's the habit of every online shopper to zoom in every product before buying it. Make sure you give a nice view with Magic Zoom Magento 2 extension. This helps your consumers to come, stay and gather extra details about the products listed on your shopping site.
Magic zoom is a reliable and popular plugin for Magento 2 that can help enhance your store's performance. Treat? Load images instantly without any delay.
Highlighting Features:
Zoom 3 effects available (outside, inside, magnifier)

Easy-to-use settings page with 40+ options

Control magnifier size with mouse-wheel

Custom settings for mobile devices

Responsive sizing

API & JavaScript callbacks
Price: $49 (one month) | 144 (one year)
Star Rating: 4.5 stars
6.5 Shop By Brand by Appjetty
Shop by Brand is the must-have marketing extension for every Magento 2 store owner.
This Magento 2 extension allows your buyers to shop products based on their brand preferences. Being a Magento owner, you can add the brand attribute along with their details to all your products. Set them to show in the front end to all your customers and allow them to choose their brand products.
There's also a setting that allows the customers to filter products by brand on category pages.
Highlighting Features:
Filter Products By Brand
Create a separate page containing all brands
Search by Brand (Brand drop-down in the search bar)
Useful for seller marketplaces with multiple sellers
Free support for 3 months and free upgrades for 6 months
Price: $59
Star Rating: 5 stars
6.6 Wishlist by Amasty
Adding favorite item to the wishlist is something that people do today. This benefits the store owners too!
How? It lets your users choose their products and come again to your website to buy. It also helps you decide which products are doing well, selling fast and need to be in stock all the time.
Wishlist by Amasty is one of the most popular Magento extensions. This Magento 2 tool collects and shows data from all users' wishlists so that you can see the most frequently saved items.
This allows you to keep a close watch on your shoppers' demand and easily manage products on your site.
Highlighting Features:
Monitor how many popular items left in stock
Get to the product page in one click
See which items are liked the most
Sort items based on their popularity
Collect all customers' wishlists in one place
Price: Free
Star Rating: 4.5 stars
6.7 Shop By Attribute for Magento 2
Shop by attribute extension offers one of the most convenient features to the customers of browsing the products based on brand, color, size, pattern or any other custom attribute in Magento 2.
With this extension, admin can create numerous pages for different attributes and also for the attribute options belonging to those attributes. Also, it is extremely simple for the administrator to synchronize the attribute options from Magento attributes to extension's attribute listing.
For example, the admin creates a page for attribute 'Color' with options Red, Green, Blue in it. Later on, the admin adds colors Yellow and Purple in the Magento attributes options. Now, to show the new colours in the existing page "Shop by color", admin just needs to click on 'Sync Attribute Options' button and this will import all the updates that are made in the default Magento attributes and it's options.
Every part of the extension you see on the front-end is totally configurable from back-end which means that you can set the image, layout, URL of the attribute option pages and choose whether you want to showcase the attribute slider on the home page (or any CMS pages/block) or not.
Highlighting Features:
You can configure attributes & its options as per store views (Flexibly supports multiple-store)
Set a different layout for each attribute specific page (For ex., 2Columns-left for Red; 3Columns for Green)
You can display selected attributes in any landing page for promotion (like homepage or particular category page)
Layered navigation on the attribute option pages to filter your customer's search
Search and sorting facilities on the attribute option pages
Fully responsive design to give the best shopping experience to customers in any device
Price: $199
Star Rating: 5 stars
6.8 DataFeedWatch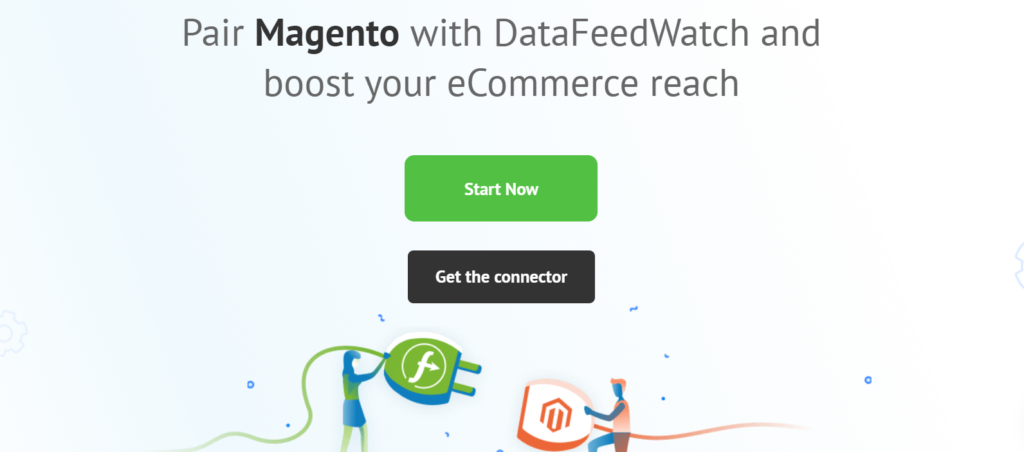 DataFeedWatch is a leading feed marketing solution combining data transformation with help and advice that empowers Merchants, Agencies, and Enterprises to succeed on eCommerce channels. Businesses can use DataFeedWatch software to enhance their product feeds and increase sales on over 2,000 shopping channels worldwide.
Highlighting features:
15-day free trial
Competitive prices
24/7 support from feed experts
Over 2,000 channel integrations
Intuitive feed optimization panel
Automated Search Ads functionality
Product-level analytics
Competitive price insights
Feed review to check and fix errors
Daily feed updates
User Rating: 4.7/5 stars on Capterra
Price:
Shop: $59/mo
Merchant: $79/mo
Agency: $239/mo
6.9 Magento 2 Automatic Related Products
Magento 2 Automatic Related Products aims to identify store visitors' interests and present them with relevant offers. The addon creates relationships between displayed products and related things by utilizing a clever autosuggestion technique.
Additional blocks, such as Related Products, Cross-Sell Products, Upsell Products, Daily Deals, New Products, Featured Products, or Bestsellers, can be created indefinitely. This functionality transforms the extension into a versatile tool for product recommendations.
To help you monitor and evaluate the effectiveness of each rule, the extension enables A/B testing in particular. As a result, you can manage related items and choose which laws to follow to maximize revenues.
Highlighting features:
Related products rules
Unlimited Related Product blocks
A/B Testing Support
Related Block Statistics
Related products sorting
AJAX Loading Related Products
Price: $199
Bottom Line
Magento 2 is a premier e-commerce platform that most of the smart retailers rely on these days. The reason being, it helps increase revenue and brand exposure globally. You can be more benefited from the platform if you choose the right Magento 2 extensions for your e-store.
Each extension plays an extremely important role as it gets you a step closer to the desired conversion.
Plugins Alone Can't Make Magic!
In this post we mentioned the top magento 2 extensions for your store.
However, these extensions in Magento can help you improve your performance, still, you can't win the race without a good, reliable host.
Well, we're here to help!
To get more sales and better conversions from your shopping site, migrate your Magento store to us today, and see the difference!
Enquire now and join 1000+ businesses who have blitzscaled their websites by choosing ServerGuy as their hosting partner.