Magento is certainly very popular. There are about 11% of the E-commerce websites are running on Magento. Undoubtedly, this makes it a lucrative target for the attackers to make some quick cash. Therefore, Magento Security Extensions could help you in reducing the threats.
What happens when your Magento website gets hacked?
Your customers' sensitive data is leaked like credit card/debit card details, login details etc.

The website gets defaced.

It could be redirected to some spammy sites.
The impacts of a hacked Magento Website can not only destroy your credibility but Google can also penalize you. Here are some of the best Magento security extensions you must have to make your website and customer data more secure.
Top 6 Magento Security Extensions
1. Astra
Astra is one of the smartest tools chosen by many store owners from across the globe. The community detects logic errors often missed by automated tools.
The product provides:
Solid Security: WAF prevents Malware injection, XSS attacks etc, protects against bad bots, stops fake users from signing up to your website.
Human Support: The support is available over chat, email, and phone regardless of the plan.
Magento Optimized: It patches vulnerabilities automatically, blocks malicious users trying to gain admin access, and secures 3rd party plugins.
Price: Starts from $12 per month and goes up to $149 per month. You can choose any plan depending upon your Magento security needs.
2. Watchlog
This Magento extension helps in preventing your website from brute force attacks. This means Watchlog will identify and stop attacks that aim to access Magento backoffice.
Features:
Prevent website from brute force attacks.

A detailed and summarized table of login attempts.

Obtain a periodic report on the statistics on email.

View the daily and monthly login attempts in graphs.

A track of the connection attempts.
How to Use:
Configure Watchlog Extension
Go to System > Config > Wyomind > WatchLog
Connexion attempts history: Configure a certain number of parameters.

Send a Periodical Report: Receive reports by setting it to a 'YES'.

Period to Report in Days: Number of days you want to include in your report.

Report Title: Title of your report.

Report Recipients: Enter addresses where you wish to receive the report.

Report Schedule: Schedule to automatically receive the reports.
Check Login Attempts
By navigating to Systems > Watchlog, you can have an overview of the login attempts to your Magento backoffice.
Compatibility
Price: Starts at €70
3. Amasty's Admin Login Actions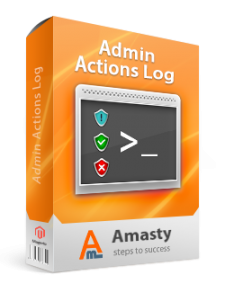 Amasty's Magento Extension helps in keeping a track of how, when, and by whom your store data has been viewed or modified. You can effectively manage your staff by limiting the access and separating category management.
Features:
Keep all the actions performed in-store backend by admin users.

View log history.

Keep log records for as long as you need.

You can see the login activity and block malicious login attempts.

It keeps a track of what has been done in your store admin panel and by whom.

You can see all the log details on the grid for the specified time.

You can ban or unban users.
Price: $169
4. MageFence
MageFence is a unique and well-rounded solution for Magento that keeps your website secure from common security threats. By acting as an additional layer of protection, it blocks brute force and other hack attacks.
Regularly scans your website internally and notifies about any potential unwanted changes.

It offers a variety of features that aim to keep your website protection up-to-date and use best security practices.

This Magento extension scans the database and detects users with admin privileges created without authorization.

It performs a security audit of your Magento website to find security loopholes, vulnerabilities, and malware infections.

You can find which security patches are not installed.

With the checklist feature, you can find unauthorized users with admin privileges and if there's any file changed.

Alerts you if there is any sign of malware infection.
How to use:
Set the time of the scan

Set the frequency of the scan

Set login failures and MageFence will block those shady IP address who exceeds this specific number of login attempts. However, there is an option to add certain IP addresses to the 'White List' which will prevent you from getting locked out. By selecting this option, you will tell MageFence that it is you.
Price: $159
5. Two-Factor Authentication by Amasty
You can enhance Magento admin security with Amasty's Two-Factor authentication.
It combines Google Authenticator application and your smartphone to verify the admin session. Thereby, protecting your unauthorized logins and fraudsters.

It assures protection against data sniff by providing new security code each time. So even if your security code and password are sniffed they couldn't be used to get logged in.

Time-based security codes are provided. They change every 30 seconds and remain valid only before 30 seconds.

You can white-list some IP addresses (for example, your company IP) and not require entering the verification code.
Compatibility
iPhone (iOS 3.1+)

iPad

iPod touch

Android (1.5+)

Blackberry (OS 4.5-6.0)
You can make sure if your device can run the Google Authenticator application
Price: $69
6. Magento 2 Disable Right Click
Plagiarism is a common problem on the Internet. When Ecommerce stores and websites start to grow, competitors start creating throwaway websites and plagiarized content.
The throwaway site copying your content is of no use for them, but for you, it's business. Google penalty hurt your website more than theirs.
One quick solution is to disable the right-click on the Magento store.
Magento 2 Disable Right Click extension by Magecomp protects your data from copying. It deactivates the right click on the webpage – which is used to open the feature box with the Copy option. Besides clicks, it also disables the keyboard shortcut. Which further removes any chances of copying the text.
The extension offers multiple customizable options. You can select what option the visitors have once they open the page.
Features:
Explicitly protect store data from copying
Deactivate Right Click on your webpages
Option to disable the utility of keyboard shortcuts
Safeguard your images and source code
Preserve sensitive data to be copied or downloaded.
Images and source code can be protected
Disabling right-click and keyboard shortcuts will exhibit that the data is copyrighted
Price: $49
Bonus – MageFirewall Security
MageFirewall Security is another extension which adds an additional layer of security around the Magento commerce system. It blocks and blacklists the attackers.
Features:
Using Ninja Firewall rules, it blocks the attackers and prevents them from getting through your website.

It scans to provide recommendations around your store setup.

This Magento extension includes a 'recently modified file' scanner to alert when someone breaks into your store.

Secures your store against brute force attacks and blacklists them.

File modification detector

Scan web servers

It scans your Magento for unpatched security issues
Price: Free
Conclusion
These are some of the best Magento extensions that will help you with securing your Magento store. Have we missed any good Magento extension? Drop your suggestions in the comment box below.
Enquire now and join 1000+ businesses who have blitzscaled their websites by choosing ServerGuy as their hosting partner.