Do you want to know how to migrate contacts from Zimbra webmail?
Step 1 – From Webmail (Zimbra) Click Preferences
Step 2 – Click Import / Export
Step 3 – Select Contacts
Step 4 – Select "Account Contacts" from the drop-down menu
Step 5 – Select "Emailed Contacts" (You may need to export both Emailed Contacts and Contacts separately)
Step 6 – Click the Export button in the lower right-hand corner.
Step 7 – During the export process – webmail Zimbra will create a file called "Emailed Contacts.csv"
Step 8 – Find the "Emailed Contacts.csv" file. Open it. It will open in Excel 2013. You need to perform some clean up on the file. Remove extra columns. You should have 4 columns in the excel spreadsheet, email, firstname, fullname, and lastname. Additionally, delete empty lines or bogus addresses.
Perform a File Save As. Save the file as a "CSV (MS-DOS) (*.csv)" file type.
Step 9 – From here the procedure is that same as importing contacts from Thunderbird. Open Microsoft Outlook 2013. Click the FILE menu. Click "Open&Export."
Step 10 – In the Import and Export Wizard window, select "Import from another program or title" and click Next.
Step 11 – In the Import a File window, select "Comma Separated Values" and click Next.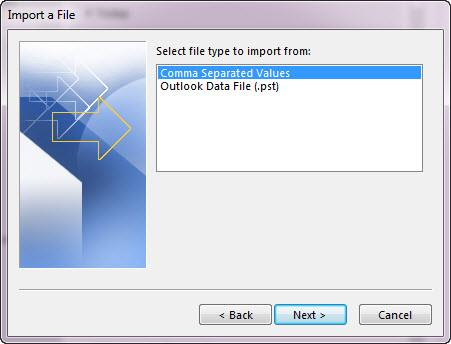 Step 12 – In the Import a File window, click "Browse…" and find the file that you exported from webmail.
Step 13 – In the Import a File window, select the "Contacts" (This computer only) file. Then click Next.
Step 14 – In the Import a file window, click "Map Custom Fields."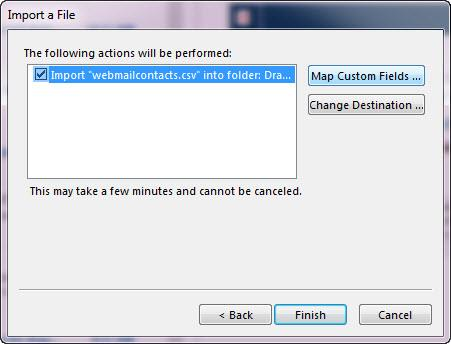 Step 15 – You will need to use your judgment and drag values from the Comma Separated Values to map to the Microsoft Office Outlook values.
In the above three examples, I have mapped the First Name, Last Name, and Email Address. Once done, click OK.
Step 16 – In the Import a File window, click Finish.
Step 17 – This is what your contacts should look like in Outlook.
This is it, All of your contacts must be in Outlook by Now.