Magento vs OpenCart
Which platform to choose while opening up an eCommerce Store?
The market is filled with many eCommerce platforms and their comparisons. Our post on Magento vs OpenCart is not just another addition.
By the end of this article, you will be able to make a final decision on which eCommerce platform you need for your store.
Useful Guides:
Magento vs OpenCart: Similarities
Before starting to compare them, let's have a look at some of their similarities:
Both platforms are open source and developed in PHP.
Allows the ease to add products by using the templated approach.
Offer many extensions and add-ons.
Supports multiple languages and currencies.
Allows your customers to make recurring payments.
Magento vs OpenCart: Differences
Magento is a large platform with lots of function and tools. Both Magento and OpenCart has designed for large online stores. OpenCart is a big platform, but it is not equipped with as many tools as the Magento. In every term, Magento is better than Opencart, but if you are beginner, Opencart is right for you. Magento is also complicated to use.
This comparison will broadly cover the following areas:
User Interface
Whether you are an amateur or an experienced developer, you will always look for a user-friendly interface. Let's explore the UI and admin panel of both the eCommerce platforms.
Magento
If you had a chance to explore any of the eCommerce platforms, you would already know that Magento is no child's play. Packed with features and functionality, Magento does come with a steep learning curve. Many store owners also look to hire a Magento developer to avoid dealing with the UI.
Key Features:
Easy to navigate sidebar
Require some level of technical expertise
Comes with official documentation for help and support
OpenCart
OpenCart offers a much simpler UI and is also easy to install and setup. It comes with an easy to navigate sidebar on admin panel. You can download extensions, change the design, and add products easily with the help of different tabs on the left side.
Key Features:
Easy to navigate side panel
Presents simplified statistical data
Support
If your website goes down at 3 AM you will need support? Community support, as well as official support, are both very essential. Magento and OpenCart have a very different approach to their customer support.
Magento
Magento doesn't offer support as a service. But over time, this eCommerce platform has developed a huge community of developers who love to share their knowledge online. Magento Expert and Magento Stack Exchange are examples of some trusted Magento forums.
You can also refer to their official knowledge base for tutorials and FAQs.
Key Features:
Both free and paid support available
Large online community
Offers official documentation
OpenCart
OpenCart has a dedicated support system for all its users. But this will cost you extra money, the pricing packages start from $99 for one time fix and $99 per/month for a dedicated support team. If you want unpaid support you will have to rely on the community and forums. OpenCarts community, keeping in mind it's popularity, is very small.
Key Features:
Dedicated support, Community forums, and Marketplace support available
OpenCart installation + configuration support
Trusted certified experts help
Guaranteed response time
Hosting Cost
The eCommerce platform that you choose does have a huge impact on how your store will perform. But you simply cannot ignore the hosting service provider. Hosting services will decide the speed and security of your store. There are many companies offering to host for Magento and OpenCart. The only difference is the cost involved.
Magento
It is a commonly known fact that Magento requires many resources. We highly recommend you to stay away from shared hosting. A shared host will always negatively impact your store performance. Managed Magento hosting is your best bet when it comes to better store performance.
At ServerGuy, you can get Magento hosting starting from $99/month. You can also get plans suitable for your business here.
Key Features:
Requires you to separately buy a domain name
Complete control and flexibility
Works well for growing and developed businesses
You can host multiple stores
OpenCart
Hosting expense is much cheaper when it comes to OpenCart. Being a light platform, it uses fewer resources. You can also start using OpenCart with a free demo on their official site. For hosting you can get a hosting provider for as cheap as $11.95/month.
Key Features:
Requires you to separately buy a domain name
Complete control
Works well for small businesses
Security
Today, security is a huge concern. When using an eCommerce platform, it is very essential to protect the data of customers who are making online payments.
Magento
Magento takes security very seriously. It offers regular updates with security patches for any loop. But it is still an open-source platform and you will have to add extensions and follow certain Magento security guidelines. Other than that you can also use SSL and WAF to protect your store.
Key Features:
Release regular security patches
Offers many security extensions
OpenCart
Since OpenCart is a simple and light platform, it is also less vulnerable to a security breach. The basic defense system offered by the platform is more than enough. Although many people claim that OpenCart's extensions can be unsafe since they are not monitored very closely.
Key Features:
A strongly patched central system
Offers official documents for security practices
Security extensions available
Features and Extensions
When it comes to Magento vs OpenCart we need to decide which platform offers better shopping experiences, design options, powerful SEO resources, and unlimited plugins and integrations.
Magento
There is almost everything you can get in Magento Marketplace. Magento was designed for larger eCommerce stores and offers features and extensions for the same. Also, there is a huge market for Magento developers who can easily develop any new extension required for your store.

Key Features:
5000+ extension available
Offers both free and premium versions
OpenCart
OpenCart has a large number of extensions to offer, but it doesn't come close to Magento. It does allow you to access and maintain order history but it is rather complex for a beginner.
Key Features:
13,000+ extensions available
Fairly easy to setup
Search Engine Friendliness
Designing a high-quality eCommerce store is just not enough when you don't have any traffic. You have to make your store SEO friendly to rank higher on the Search engines. And you need extensions and plugins to make this work.
Read More: Outrank Amazon: We Are Finally Revealing All E-commerce SEO Secrets
Magento
Magento has endless possibilities when it comes to SEO. You can download Magento SEO extensions, optimize titles, images and URLs. Many people do complain about the difficulties in eCommerce SEO since you can only add limited content. There is a solution to that too, you can easily add a WordPress blog to your Magento store. You can target many new keywords using your blog content.
Key Features:
Easy to install SEO extensions
Allows you to edit URLs, meta tags and headings
Redirects and canonical tags are very accessible
OpenCart
OpenCart has a long way to go when it comes to SEO. It does allow some modifications like editing the meta tags and adding 301 referrals and rel canonical. You can rank your page but you won't get any high-end SEO solutions.
Key Features:
Allows you to add meta keywords and descriptions
Creates out-of-the-box SEO URLs
Additional SEO plugins available
Wrapping Up: Magento vs Opencart
Talking about popularity, Magento always takes the lead. Have a look at this Google Trends chart: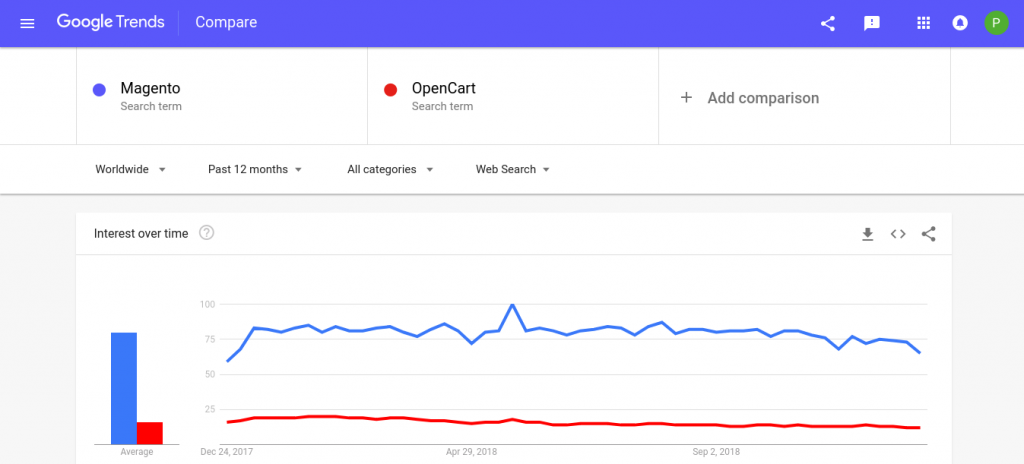 But we do recommend not to go by the popularity of a platform. Evaluate your needs, if you are a beginner and just want to sell some products and services, you should stick with OpenCart.
And if you are aiming to grow your business and establish a brand, we do recommend going for Magento. Even though it comes with a learning curve, it does offer the scalability and support which is needed by every store owner.
Final Words
Be it Shopify, or Magento, or WooCommerce or OpenCart, at the end of the day, Hosting plays a critical role along with platforms.
At ServerGuy, we offer a complete web hosting solution for eCommerce with world-class tech support.