Are you looking for Gmail Add-Ons and Gmail Extensions to enhance the productivity of Gmail?
Surely, Gmail is one of the most popular mail services in the World. Around 92% of startups use Gmail — that shows how useful and easy is Gmail for the businesses.
Though it has a lot of functions, Gmail still has limitations. For various functions that Gmail is unable to do, there are Gmail Add-ons and extensions.
In this article, I am going to mention the best extensions and add-ons of Gmail.
What are Gmail Add-Ons?
Gmail Add-ons can add new capabilities to the G Suite applications. They extend, help automate tasks or make third-party services or information available in G Suite (Gmail).
You can find them in G Suite Marketplace.
What are Gmail Extensions?
Gmail extensions are Chrome extensions that affect the Gmail dashboard. It changes and adds the functions to the mailbox.
You can download extensions from the Chrome extension store.
What is the difference between Gmail Add-ons and Gmail Extensions?
The difference between Add-ons and Extensions is that Add-ons work for the complete G-suite while the extension can be installed to the chrome browser.
Extensions are for chrome browser, while Add-ons are for G Suite apps.
Best Gmail Add-Ons and Extensions
Gmelius
Boomerang
Multi forward
Inbox When Ready
Simple Gmail Notes
Follow up.cc
Murmure
Checker Plus – Multiple accounts
Hubspot Sales
Vocus.io
Trello for Gmail
Asana for Gmail
Wrike
Sortd
MiesterTask
ToDoIst
Zoom
DragApp
Insightly CRM
Mojo Helpdesk
Streak
Shared Contacts For Gmail
Secure Mail
Flowcrypt
Digify
Find Big Mail
Unroll.me
Mailstrom
WiseStamp
DocuSign
Clearbit Connect
Sales Navigator
Giphy
Gfycat
Dropbox
Mail track – Mail seen
Evernote
Right Inbox
Flashissue Newsletter Creator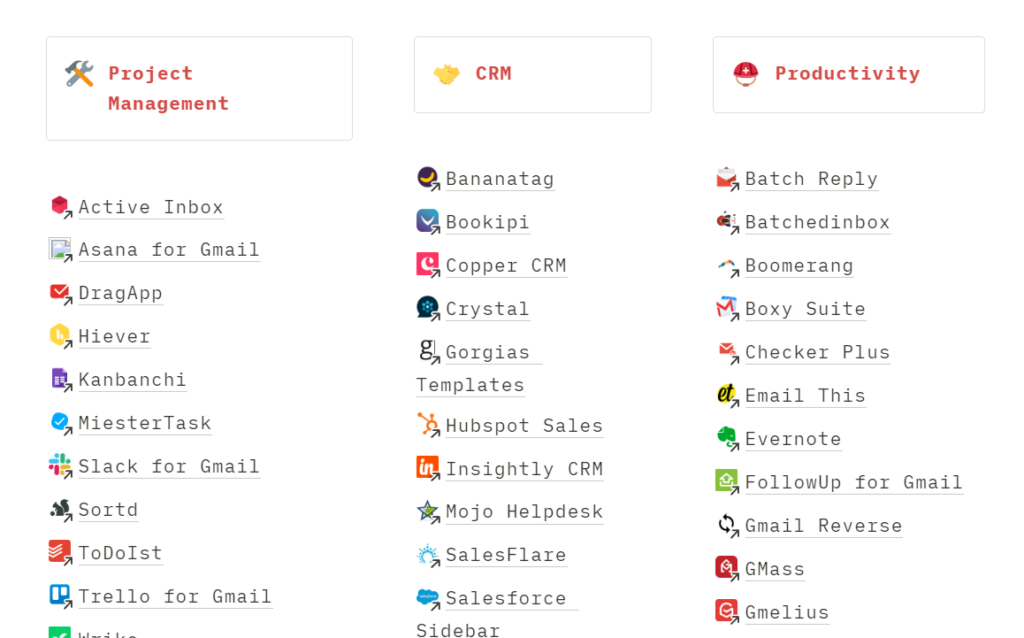 Gmelius
Gmelius is a complete package with all the necessary tools and functions for the team management task. It is a powerful Gmail extension for project management and collaborative work.
Features of Gmelius:
Helpdesk
Kanban boards
Automate mails
Shared labels
Email Notes
Templates
Integrated CRM
Email delegation
Boomerang

Boomerang is a fantastic tool for mails. It is an email tracking tool that helps you in outreaching.
Boomerang gives you complete control over your emails.
Features of Boomerang:
Schedule mails
Reminder mails
Read receipts
Click tracking
Inbox pause
Email notes
Recurring messages
CRM Integration
Multi Forward
This simple extension for Gmail that lets the user forward multiple emails through Gmail. A little multi forward button begins to appear on the toolbar of the Gmail inbox.
Select all the emails and forward them to the recipient.
Features of Multiforward
Forward multiple emails up to 100
The extension does not store any data
Inbox When Ready
This chrome extension helps you in minimizing your total time spent in your inbox. The extension lock the Inbox for a fixed time, so you can concentrate on other tasks.
For example, your Gmail will be locked on your vacation, and you will not be able to check it even if you want. This is small Gmail add ons that will stop you from getting sidetracked.
Features of Inbox When Ready
Hide your inbox
Schedule your inbox lockout
Limit the Mail browsing
Simple Gmail Notes
The only function of Simply Gmail Notes is to add the notes to the threads and messages.
Features of Simple Gmail Notes:
Save the notes in Google Drive
Add notes to calendar
Sync the notes in chrome, firefox, and edge
Display notes in print
Follow up.cc
This is a lightweight mail tracking plugin for Gmail that is mainly used for scheduling follow up emails.
Not only mails, but you can schedule specific web pages, online convos, or even a social media profile to check later.
Features of FollowUp.cc
Schedule reminder mail
Email open tracking
Murmure
If you are sending an email to some one (lead, employee, HR) and want to CC another person privately, then this extension is for you.
Murmure extension let you CC/BC privately.
Features of Murmure:
5 free Murmure / day
Private BC/CC for the email
Checker plus – Multiple accounts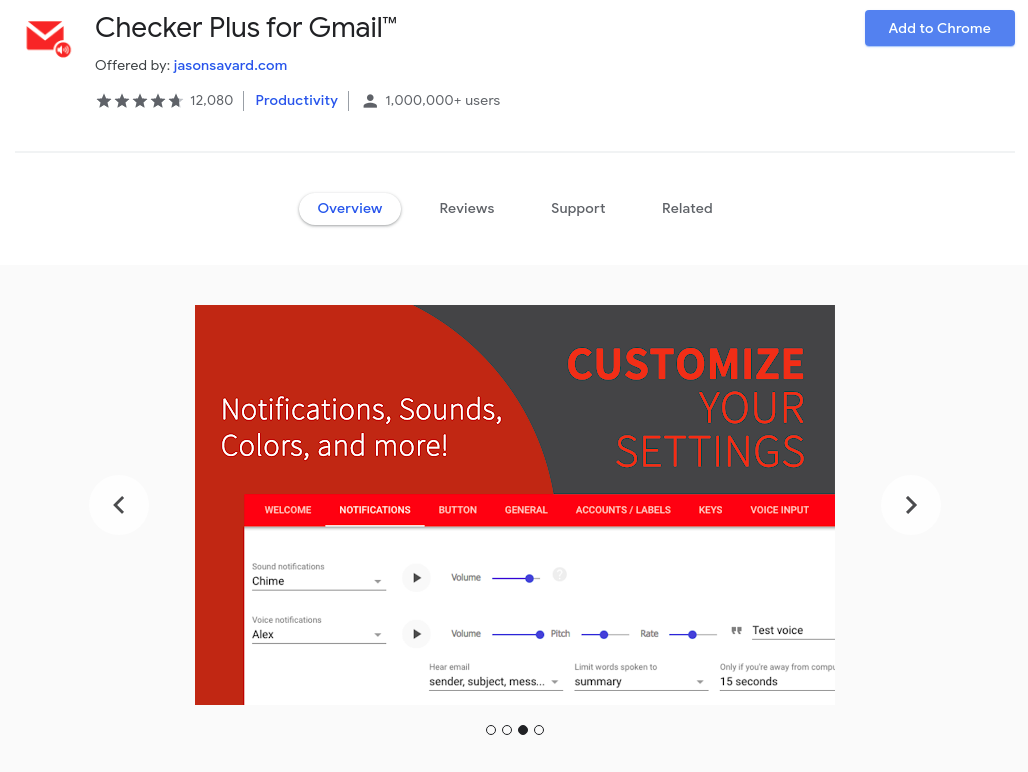 Checker Plus extension is helpful to those who use multiple Gmail account at the same time.
Switching between the accounts to check mails and notification is a hassle. In a click, it shows all of the currently open Gmail accounts, and the panel displays the new emails and notifications.
Features of Checker Plus:
Supports Push Notifications
Voice notification
Runs in the background
Supports offline views
Hubspot Sales
Hubspot Sales is a comprehensive sales tool with lots of functions under the belt. This is a trusted Gmail manager and has more than 662k installation.
Features of Hubspot Sales:
Email tracking
CRM for Gmail
Create share email templates
Meeting scheduler
Automated personal outreach
Vocus.io
Vocus.io is a Gmail productivity app that is also an inside sales enabler with various features such as email tracking, automated follow-ups, and mail mergers.
Features of Vocus:
Track email opens, and link clicks
Schedule reminder
Integrate with other CRMs
Coordinate with the team for scheduling meetings
Lightweight and fast
Trello for Gmail
Trello for Gmail is a simple Gmail add-on that lets you create new cards to your board from your inbox. You can import the content of the mail to the task without leaving the mail.
Features of Trello for Gmail:
Create new cards from the Gmail inbox
Import the content of mail to card description
Asana for Gmail
Similar to Trello, but Asana for Gmail is for Asana users. However, Asana for Gmail offers you a search function.
Features of Asana for Gmail:
Add new Asana cards
Import email content and attachment to the Asana card
Wrike
Wrike for Gmail allows users to create Wrike tasks from inside the emails, view and edit tasks. You can also send and receive Wrike comments in Gmail.
Features of Wrike for Gmail:
Create new tasks from Gmail
Send and receive Wrike comments
Add emails as comments to tasks
Sortd for Gmail
Sortd is a powerful extension that transforms your Gmail Inbox into a dynamic workspace that boosts your productivity and simplifies your life.
Features of Sortd For Gmail:
Works inside Gmail
Neat multi-list Trello-style layout
Drag and Drop to prioritize your emails
Manage ToDo's and emails in the same Workspace
Rename your lists, so Sortd works the way you work
Group multiple conversations together
Follow-up list
Reminders
MiesterTask
MeisterTask turns emails into tasks and inserts them in the project and section of your choice.
It is a project management tool that helps in an efficient workflow.
Features of MiesterTask Add Ons:
Works inside Gmail
Clean Trello-style layout
Drag and Drop function
ToDo and emails in the same Workspace
Follow-up list
ToDoIst for Gmail
The Verge ranked the ToDOIst "the best to-do list right now".
It is used by 20 million people to organize work and life and to keep tabs on all those incoming emails.
Features of ToDoIst for Gmail:
Add emails as tasks
Remember to follow up
Complete tasks from Gmail
Zoom for Gmail
Zoom's integration with Gmail allows you to instantly escalate any chat to a video collaboration session with a frictionless experience across desktops, mobile devices, and conference rooms.
Features of Zoom for Gmail:
Integrated with Gmail and Google Calendar
Start or schedule with the Chrome extension
Send video invitations to the Gmail contacts
DragApp
DragApp is the Everything Inbox for Teams – one place to run your business. You can transform Gmail into organized lists in a Kanban layout.
Features of DragApp:
Turn Gmail into a Drag board
Create a shared inbox in seconds
Create custom boards for anything
Create custom boards for anything
Insightly CRM for Gmail
The Insightly Sidebar Chrome browser extension gives you direct access to your Insightly CRM account while you're viewing your Gmail inbox.
Features of Insightly for Gmail:
View Insightly information for email contact or lead,
Create a new Insightly contact
Save email messages
Android and iPhone compatible mobile CRM App
Mojo Helpdesk
Mojo Helpdesk CRM Google Add-On is a ticketing system that centralizes customer conversations in one place, automates repetitive work to save time, for speedy resolution.
Features of Mojo CRM:
Single sign-on with Google
Integrates easily
Navigate from Google G Suite to Mojo Helpdesk in one click
Streak
You can manage sales and customer relationships directly inside Gmail with Streak CRM, instead of switching back and forth between your inbox and other tools.
Features of Streak CRM:
Collaborate and share emails, notes, call logs with your team
Capture data from the contacts and emails
Eliminate repetitive emails using Snippets and Mail Merge
Schedule crucial emails for the appropriate time
Native Android and iOS apps
Integrations with GSuite, Zapier, and APIs
Rigorous security and privacy
Shared Contacts For Gmail
Shared Contacts for Gmail is the ultimate contact management and contact sharing app for all the Google Workspace (previously G Site) and Gmail users.
It is a powerful extension that makes Google Contacts 10X more effective with the ability to share contact groups/labels with any other Gmail users, just like you share Google Docs.
Features of Shared Contacts for Gmail:
Access shared address books from everywhere
Define access permissions in your organization
Share and synchronize contacts from Google Contacts
Unlimited sharing of contacts and contact groups
Mobile/Tablet & Outlook sync
Permissions Management
Live Chat and Email Support
Sharing with external domains
Instant Synchronization
Advanced logging and security features
Unlimited Contact Backup
Secure Mail
This is a simple extension that allows users to send encrypted emails directly from Gmail. The Gmail connections are already secure, but Secure Gmail adds one more protective layer.
However, you need a business account to use this extension. But it is a small and useful extension that improves security.
Check it.
Flowcrypt
FlowCrypt secure email and attachment by encrypting the end-to-end communication. With FlowCrypt, you can use PGP encryption to add an extra layer of security over the mail.
The extension integrates seamlessly with Gmail and adds an 'Encrypt and Send' button to the mail composer.
Digify
Digify is an Email Tracking tool for your file attachments in Gmail. It tells you when your attachment has been opened, read, printed, or forwarded by the recipient.
The best function of the Digify extension is that you can assign the self-destruct to the files so they will be deleted automatically after a reading.
You can also unsend the files, and the attachment will vanish from the recipient's inbox.
Digify protects your documents from falling into the wrong hands.
Find Big Mail
As the name suggests, this extension finds the large size threads and mails so you can clear them to save the space on your Gmail account.
The extension scans your entire mailbox in a click and finds the largest mails.
Unroll.me
Do you hate all the subscription emails hogging up your space and cluttering your mailbox?
Unroll displays all of the membership mails in one place. You can unsubscribe from multiple sites in a few clicks and clean your mailbox.
Mailstrom
You can unsubscribe and delete thousands of emails in a few clicks with Mailstrom.
Mailstrom identifies bundles of related mail and makes it easy for you to act on them as a group. It is designed to give you the leverage of a powerful yet simple set of tools so that you can take control of your inbox your way.
Features of Mailstrom:
Spam protection
Unsubscribe faster
Privacy protection
WiseStamp
You lost an opportunity for branding whenever you send an email to anyone without the company or brand information.
WiseStamp enables you to create a signature filled with social profiles and information that you want to promote via email.
Features of WiseStamp:
Easy setup & configuration interface
Personally designed signatures
IM and social services icons
Automatic signature insertion
Sync between computers
DocuSign
DocuSign is a popular name when it comes to eSignatures.
The Gmail Add On of DocuSign makes it easier to send out documents for signature.
The recipient can open and sign the document directly from Gmail. Then the signed document could be sent back in a click.
The process of printing, signing, scanning, and then sending just come to opening up the documents and then signing it.
It saves a lot of time.
Features of DocuSign:
Sign directly from Gmail
Sign from any browser
Unlimited Signing
Access account from any device, anywhere
Clearbit Connect
Clearbit Connect helps you to find the email addresses for employees for any company and display useful contextual data for anyone who emails you.
It gives you access to the largest database in the World. After installing Clearbit Connect, the information of millions of companies and people will only be a click away.
It is a simple widget that can be found in the sidebar of Gmail. It displays useful information about the people who email you.
Sales Navigator for Gmail
This is a chrome extension from Linkedin itself. It displays the Linkedin profile information of the person in the sidebar.
It is a free and convenient way to build better relationships by surfacing LinkedIn insights about your prospects and customers without having to leave your inbox.
Features of Sales Navigator:
See rich LinkedIn profile data for your contacts directly in your Gmail
Hover over the email to quickly view the Linkedin profile associated with that email
Save contacts as leads in your Sales Navigator account
Use TeamLink to see if prospects are connected to your colleagues
Giphy
Giphy makes mail interactive with GIFs. Giphy extension opens up the GIF space inside the Gmail composer. You can search and find the best GIF to send with the mail.
Instead of saving the GIFs to desktop and then uploading them, you can post them directly to the mail. Get the access to complete catalogs of Giphy with the Giphy extension.
Gfycat
Similar to Giphy, Gfycat gives access to the millions of GIFs of Gfycat inside the Gmail inbox.
You can browse the popular and trending GIFs and reply to the mail with it.
Dropbox for Gmail
Dropbox extension lets you browse your Dropbox files and folder without leaving the Gmail windows. You can send and preview Dropbox files and links quickly and save time.
By adding a Dropbox button to Gmail Compose, it becomes really easy to send Dropbox shared links in email – allowing you to share large files and save space of your Gmail inbox.
Features of Dropbox:
Quickly access the recent files with recent files tab
Search function to find the files quickly
See the rich preview of the document
Mail track – Mail seen
Do you wonder if the recipient has seen your mail and not replying to you?
The Gmail does not tell you if the receiver has opened the mail. But there is a simple solution — Mail Track.
The extension tracks the email activity and keeps you updated with real-time notifications about your mail.
Features of Mail track:
Track your mail
Real-time notifications
Fast and lightweight
Secure and reliable
Evernote for Gmail
Evernote for Gmail lets you take what matters out of your inbox and into a distraction-free workspace where you can curate your content, add context, and stay focused.
Gmail is usually filled with several unnecessary emails. With Evernote Add-on, you can transfer the important stuff to your Evernote account to focus later.
Features of Evernote:
Move your emails into Evernote
Keep emails in Evernote
Store your content in an organized way in Evernote.
Save essential emails into notes and share them as public links to Evernote.
Right Inbox for Gmail
Right Inbox effectively improved the capabilities of Gmail by installing the new functions. This one extension does the work of ten extensions.
The integration with Gmail is smooth, and it is very lightweight despite many functions. It is a powerful extension.
Features of Rightinbox:
Track email opens and clicks
Automate recurring emails to be sent out every time you need them to
Attach private notes only you can read
Use templates to write emails faster
Switch between multiple signatures with one click
Send sequences with follow-ups that automatically send if a recipient doesn't reply (and canceled if they do)
Set reminders not to lose track of meaningful conversations
Sync relevant emails with your favorite CRM application
Share visual previews of web links within your emails, like on social media
Embed GIFs from GIPHY within your emails to liven up your communication
Flashissue for Gmail
Flashissue newsletter creator lets you design newsletters and sends a mass email campaign from Gmail. Now you can send 100 emails or 5,000 emails without breaking Google sending limits.
It is easy to create attractive newsletters and emails with the help of Flashissue. The integration adds the multiple tools that help in the designing of the emails. It is an excellent tool for new marketers and bloggers.
Features of Flashissue:
Bookmark web content
Drag & drop editor
Create email lists from Google Contacts and Google Groups
Manage email subscriptions and unsubscribes automatically
Track newsletter opens, clicks, and bounces
Invite team members to collaborate with you
Summary:
Best Gmail Extension for Productivity:
Gmelius
Boomerang
MultiForward
Inbox When Ready
Simple Gmail Notes
FollowUp.cc
Hubspot Sales
Vocus.io
Checker Plus – Multiple accounts
Best Gmail Extension for Project Management:
Trello for Gmail
Asana for Gmail
Wrike
Sortd
MiesterTask
ToDoIst
Zoom
DragApp
Best Gmail Extension for CRM:
Insightly CRM
Mojo Helpdesk
Streak CRM
Best Gmail Extension for Security:
Secure Mail
Flowcrypt
Digify
Best Gmail Extension for Cleaning the Gmail:
Find Big Mail
Unroll.me
Mailstrom
Best Gmail Extension for Signatures:
WiseStamp
DocuSign
Gmail Extension To Find Email Address:
Clearbit Connect
Sale Navigator
Wrapping Up
Although. Gmail Extension and Add-ons increase productivity by adding a useful function inside Gmail, but there are so many of them.
This article lists the few that are best in their field. You do not need to install all of them, just the one that you find helpful for your work.
Do tell us which Gmail extension or Gmail Add-Ons you liked the most and use regularly.